The National Football League says allowing a team to honor fallen police officers would do nothing but open a Pandora's box of problems — and the organization's ruthless pursuit of cash over honoring fallen police officers has some cops fuming mad.
The Dallas Cowboys had paid tribute to their city's police and the five officers killed by a crazed gunman with a ceremony before the start of training camp, when players walked arm-in-arm onto the practice field with city police Chief David Brown, Mayor Mike Rawlings, and members of four of the five families of officers who were killed in an ambush in downtown Dallas during a Black Lives Matter rally.
After taking the field in four waves, players and coaches formed a circle for a moment of silence with the Dallas contingent, which included children. Brown addressed the team and shouted "Dallas strong" as he wrapped up his remarks.
They had planned to extend that honor through every game of the 2016 regular season by wearing a decal on their helmet that read simply, "Arm In Arm."
The NFL responded Wednesday: No way.
Cops say the league's lack of respect is painful.
"The NFL had an opportunity to be leaders and advocates for change in law enforcement," Sgt. Demetrick Pennie, president of the Dallas Fallen Officers foundation, said. "These are our friends and our loved ones … it hurts to not have the NFL fully support us."
Cowboys owner Jerry Jones defended the NFL executives, saying that he supports the league's decision.
"There are so many wonderful, wonderful causes, the league has to be careful," Jones said. "Once you open that Pandora's box, how do you ever stop?"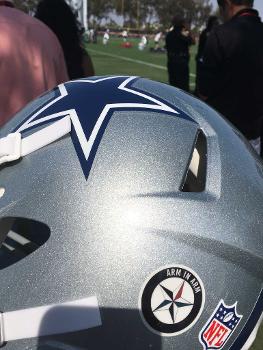 The Associated Press contributed to this article