Somewhere, spread across a 20-kilometer debris field in Egypt's Sinai Peninsula, there are answers to what happened to Kogalmavia Flight 9268.
But whether the victims' families – and the rest of the world – will ever get those answers remains to be seen.
Flight 9268 crashed just minutes after takeoff on Saturday, killing all 224 people on board. While authorities investigate the possibility of terrorism, there's one group of possible culprits who should not escape scrutiny.
And that's the Russians themselves.
Russia has an alleged history of using staged terror bombings to advance its global political interests, and there is increasing evidence the plane was taken down by either bomb or missile.
According to Alexander Smirnov, deputy general director of parent company Metrojet early Monday, "The only possible explanation could be an external impact on the airplane." Smirnov said the company has already ruled out pilot error or technical fault, and insisted that its planes wouldn't just break to pieces in mid-flight.
Flight 9268 appears to have broken apart in mid-air over a region of Egypt known for a heavy ISIS-affiliated insurgency, and there's enough concern about a possible terror link that other major airlines have announced they will no longer fly over the region.
But any attempts to pin the tragedy on ISIS have faltered with the group's claim that it shot the plane down, which experts have called ludicrous and "unreliable." Flight 9268 had climbed to an altitude of 30,000 feet, which terror experts say far exceeds current ISIS weapons capabilities.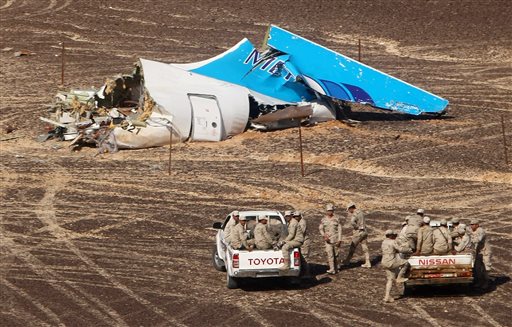 Piecing together a possible mechanical cause of the crash has so far been problematic. While Russian jets have a notoriously spotty history for safety and maintenance, early reports that the air crew radioed complaining about mechanical problems with the plane were not true, according to Egyptian aviation authorities. And the plane passed a pre-flight safety check.
"There was nothing abnormal before the plane crash," Egyptian Civil Aviation Minister Hossam Kamel said at a news conference. "It suddenly disappeared from the radar."
For Russian experts, the plane crash – and a possible link to a bomb – brings back troubling memories of a so-called "false flag" operation less than 20 years ago.
In 1999, a string of apartment bombings throughout Russia killed more than 300 people and wounded more than 1,700. The attacks helped sweep current Russian ruler Vladimir Putin into power and were used as a pretext for an invasion of Chechnya.
But Russian authorities quickly shut down inquiries into who was really behind the attacks, and two members of the Russian parliament who investigated the bombings died in apparent assassinations.
Three years ago, John Dunlop, a senior fellow at the prestigious Hoover Institution, conducted the investigation the Russians never did with his book, The Moscow Bombings of September 1999. In his book, Dunlop claims to have found ample evidence that Russian authorities themselves were complicit in the attacks.
Russia used the apartment attacks as a means to justify its global ambitions and to silence domestic and foreign critics when it launched the second Chechen War.
With Russia now looking to expand its role in the Middle East – and grow its influence in countries like Syria, Iran and Iraq under the guise of fighting terrorism – the timing of the Flight 9268 tragedy appears opportunistic.
The possibility exists that Russia dusted off an old playbook, and that knowledge should be part of any investigation into what really happened to the doomed Egyptian passenger jet.