A shocking photo of Bill Clinton receiving a massage from one of Jeffrey Epstein's sex trafficking victims was revealed just hours before the former president was set to make a primetime address at the Democratic National Convention.
The photo, published by The Daily Mail, quickly went viral and stole much of the remaining enthusiasm for the already-struggling virtual DNC.
The 2002 picture was taken during an African tour Clinton and Epstein took, flying aboard Epstein's private jet nicknamed "The Lolita Express."
[
Sponsored
]
Improve Breathing by 57%?
It shows sex trafficking victim Chauntae Davies, then 22-years-old, rubbing Clinton's neck while the 42nd president grimaces.
According to the report, the massage session was the idea of alleged Epstein madam Ghislaine Maxwell. Davies told The Daily Mail that Clinton had been complaining about a stiff neck and asked her to "give it a crack."
Davies has claimed for years that she was raped multiple times while in the employment of Epstein, and was groomed by Maxwell for the job.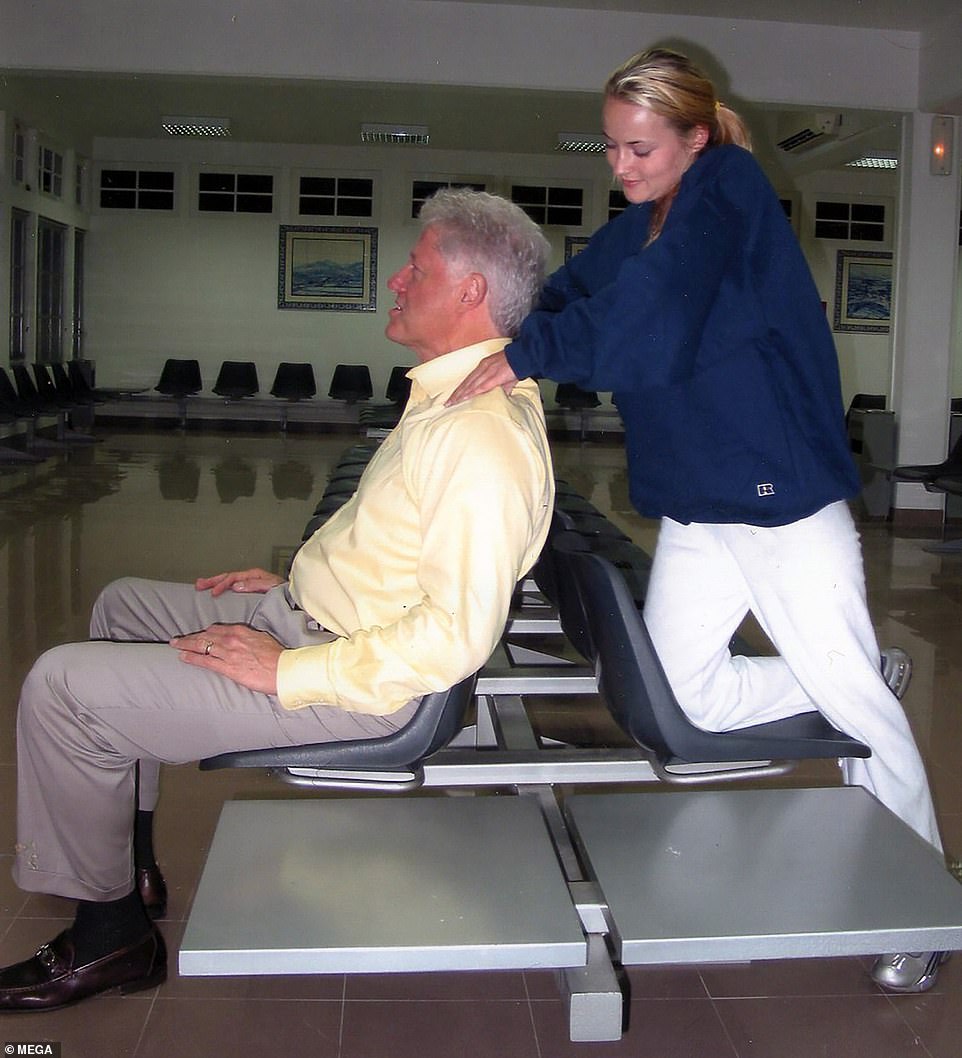 Davies said that while she was sex trafficked by Epstein, Clinton never acted inappropriately towards her and was a "perfect gentleman" during the trip.
The ONLY Water You Should Drink If You're 65+  [sponsored]
Still, the photos are a shocking reminder of Clinton's own history of sexual assault allegations and his history with Epstein. The former president reportedly took 26 private jet flights around the world with Epstein, at times leaving behind his secret service detail.
The perfectly timed photo leak by The Daily Mail wasn't the only controversy that has stolen the thunder from the Democratic National Convention, which formally nominated Joe Biden as the Democratic presidential nominee on Tuesday.
Just days before New York Gov. Andrew Cuomo's angry attack on President Donald Trump's response to coronavirus, The Associated Press released a report accusing Cuomo of covering up the nursing home death total in his state.
"New York's coronavirus death toll in nursing homes, already among the highest in the nation, could actually be a significant undercount. Unlike every other state with major outbreaks, New York only counts residents who died on nursing home property and not those who were transported to hospitals and died there," AP reported on August 11.
"That statistic could add thousands to the state's official care home death toll of just over 6,600. But so far the administration of Democratic Gov. Andrew Cuomo has refused to divulge the number, leading to speculation the state is manipulating the figures to make it appear it is doing better than other states and to make a tragic situation less dire," AP wrote.
Feel 20 Years Younger With This Superfood [sponsored]
The shocking death totals are linked to a Cuomo order at the height of the pandemic in New York that forced nursing homes to accept known COVID-19 patients.
The grim total could actually be more than 13,000 deaths — but Americans will likely never know for sure. The media has been denied access to New York's coronavirus fatality data.
Cuomo has dismissed criticisms of his nursing home order as "politically motivated" and instead claims, without evidence, that New York state performed better than any other state in their handling of the coronavirus pandemic.
The Horn editorial team