Democratic presidential nominee Hillary Clinton is going to use the Democratic National Convention to embarrass fallen police officers, a police union spokesman claims — and it has local cops furious.
Philadelphia's police union is condemning Clinton for allowing relatives of people killed by police to speak at next weeks DNC without giving equal time to families of fallen officers.
John McNesby, president of the Fraternal Order of Police Lodge No. 5, said the union is insulted by the decision to exclude families of officers killed in the line of duty.
"It is sad that to win an election Mrs. Clinton must pander to the interests of people who do not know all the facts, while the men and women they seek to destroy are outside protecting the political institutions of this country," he wrote in Wednesday's statement.
Nesby ends by saying: "Mrs. Clinton, you should be ashamed of yourself if that is possible."
"The Mothers of the Movement" group that is scheduled to participate in the convention July 26 includes the mothers of Eric Garner and Michael Brown, whose controversial deaths in police-involved shootings sparked multiple instances of anti-cop rioting in cities around the country.
The National Fraternal Order of Police echoed Philadelphia's union on Thursday, saying it was shocked by the decision, especially as law enforcement officers gear up to protect the residents of Philadelphia and visitors during the event.
"It's time for politicians so cynical as to pick sides against the rule of law and due process to make the right choice and stand with the men and women of law enforcement and to stop shameful rhetoric," the statement said.
McNesby's open letter to the Clinton can be seen below —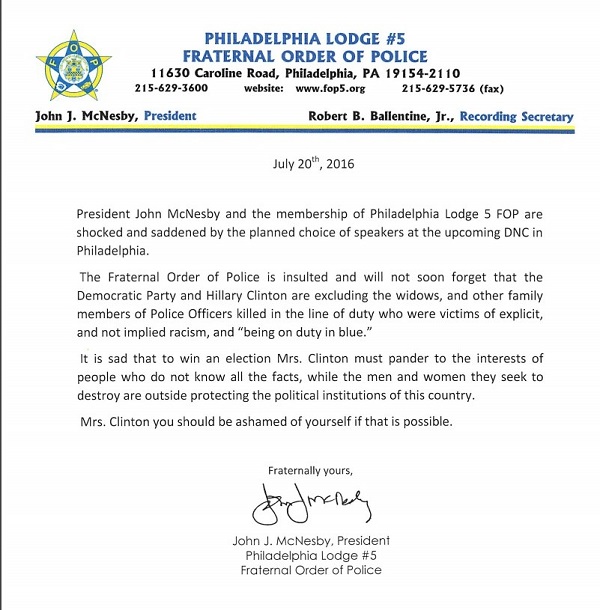 The Associated Press contributed to this article