Mary Max, the wife of famed artist Peter Max and longtime friend of the Clinton family, was found dead in her New York City apartment over the weekend.
Police have ruled her death a suicide, according to The New York Post.
Sponsored: How to tell if you're infected with the Alzheimer's "virus"
"Mary Max … died of nitrogen asphyxiation and was discovered in her apartment on Riverside Drive near West 84th Street on Sunday evening," The Post reported on Tuesday.
Authorities do not believe foul play was involved. Still, some social media users were quick to link her death to a growing list of celebrities, politicians, staffers, and business figures with links to the Clinton family that have attempted, or committed, suicide.
Although there is no direct link to the Clinton family, the end of Mary Max's life was nevertheless filled with controversy.
As her husband's health deteriorated in recent years, the Max family had been involved in a number of lawsuits over control of his multimillion-dollar fortune.
"For five years and counting … the artist's family, friends and associates have been trading lurid courtroom allegations of kidnapping, hired goons, attempted murder by Brazil nut, and schemes to wring even more money out of what was already one of the most profitable art franchises in modern times," The New York Times reported in May. "From Shun Lee to the high seas, the twilight years of Mr. Max's life have produced a pursuit of art-auction profits and a trail of misfortune as surreal as his trippiest works."
Sponsored: [BREAKING] Medical breakthrough can reverse your biological age!
Peter Max become famous in the 1960s and 1970s for his psychedelic style that blended American icons with bright colors.
Over the years, he made a fortune selling commissioned paintings to private organizations and individuals, including the NFL, MLB, and Fortune 500 companies.
The Clintons and Peter first met in the 1990s and remained close for years. Peter painted over 100 portraits of former President Bill Clinton in the lead-up to his 1993 inauguration. He's also painted dozens of portraits of former Secretary of State Hillary Clinton.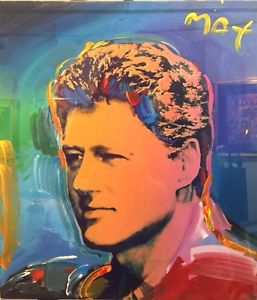 Betty Currie, then-secretary to Bill, once told Max that the president was a huge fan of his work.
"If I hadn't just been sworn in, [seeing his portraits by Max] would have been one of the highlights of my life," the president said after his inauguration.
Sponsored: Over 60? Shocking link between sex and cancer
64 paintings of Bill Clinton by Max are currently hanging in the Clinton Presidential Center in Arkansas on the second floor.
"Bill Clinton is the one that is the centerpiece of all the amazing people I've painted," Peter Max said when invited to speak at the Center's fifth anniversary in 2009.
Mary was Peter Max's second wife; she was 52 years old when she took her own life.
The Horn editorial team