A top official in President Joe Biden's Cabinet, Interior Secretary Deb Haaland, was rushed to the hospital after an injury at the workplace — a national forest she oversees.
She broke her calf bone while hiking in Virginia on Sunday, according to a statement from the Interior Department.
Sponsored: Deadliest Drug Ever (are you taking it?)
"Secretary of the Interior Deb Haaland was injured during a hike in Shenandoah National Park yesterday. An evaluation this morning confirmed a break to her left fibula," the Interior Department said in a statement. "She is grateful to Park staff, the U.S. Park Police, and the team at Walter Reed National Military Medical Center for their excellent care."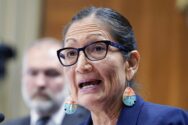 Haaland, 61, has faced health scares in the past. Most recently she tested positive for COVID-19 last month, according to a statement from her department.
Still, Haaland maintains an outdoorsy lifestyle.
She ran the Boston Marathon last year on Columbus Day — retitled Indigenous Peoples' Day — and she dedicated her run to the Native American winners of past races.
"This year, the marathon is held on Indigenous Peoples' Day. It's a day to celebrate the rich traditions, diverse cultures, and resilience of Indigenous communities across our country," Haaland wrote in an op-ed for the Boston Globe at the time.
"I will run for Tom Longboat, Tarzan Brown, and Patti Dillon because they paved a path for me. It's a path that has led me to serve in the Biden-Harris administration as the first Native American cabinet secretary in US history."
As secretary of the interior, Haaland has characterized hiking as an avenue to public health and "equity."
"As COVID-19 vaccination rates increase and our nation takes a collective and cautious sigh of relief, we need recreational resources now more than ever to strengthen physical, social and mental health across our country," she said in a statement last year.
"National recreation trails boost local economies and provide communities with safe, equitable access to the outdoors. This National Trails Day, I hope everyone finds time to enjoy the great outdoors."
Why CBD Sometimes Doesn't Work [sponsored]
Haaland has leaned into a media frenzy as the first Native American to lead the Interior Department, which includes the Bureau of Indian Affairs.
As a congressmember in 2019, she was the subject of a glowing profile in The Guardian, a British newspaper. A year later, she gave another profile to the same newspaper amid her nomination to the Cabinet.
Despite all this attention, she has remained absent from the Biden administration's discussions about oil production. The secretary of the interior manages the natural resources on federal grounds.
The Interior Department said on Sunday that Haaland would work from home for a portion of this week. The department didn't specify how long she would take to heal.
The Horn editorial team