Since last month, President Joe Biden has been sanctioning on Russian oil amid President Vladimir Putin's ongoing war in Ukraine.
Since then, he has characterized the low oil supply as a "Putin price hike," and he's announced plans to ease pressure on consumers by tapping the strategic reserves.
Meanwhile, White House press secretary Jen Psaki has released videos urging oil companies to use more of their existing permits.
Energy Secretary Jennifer Granholm reiterated this point last month at an energy conference in Houston. "In this moment of crisis, we need more supply," she told energy executives, according to MSN. "That means you producing more right now if and when you can."
However, one member of the Biden administration has remained mum on this issue. The American people have yet to hear about "this moment of crisis" from Secretary of the Interior Deb Haaland.
Sponsored: Tinnitus starts in THIS part of your body (not your ears)
Haaland manages federal land, including the natural resources underneath federal ground.
She could join Psaki and Granholm in calling for the oil companies to use their existing permits… but she's remained almost silent.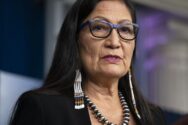 For example, Haaland has yet to put out any press releases explicitly addressing the effect of Biden's sanctions.
In every press release from the last month, Haaland has used the word "energy" only to tout last year's bipartisan infrastructure law and to sloganeer about clean energy.
"President Biden has proposed an important blueprint for our country's future that reflects the importance of science, equity and collaboration in carrying out Interior's important missions," Haaland wrote in a press release last month.
"These resources, coupled with the historic Bipartisan Infrastructure Law, will help the Department make critical investments in climate resiliency while creating good-paying union jobs in the clean energy economy."
In other words, Haaland is still fixating on an infrastructure law passed six months ago, and she's ignoring our nation's low oil supply, a more current issue.
Then again, if Haaland decided to speak about the oil shortage, then she might only harm the image of the Biden administration. She has amassed a record of dubious statements about energy.
Sponsored: The truth about eggs and senior brains
Haaland, a former congressmember, became vice president of the House Natural Resource Committee only a few weeks after her inauguration. From this powerful perch, she co-sponsored the Green New Deal, a 2019 resolution co-authored by Democrat Rep. Alexandria Ocasio-Cortez of New York. She faced criticism for enabling left-wing science denial by leaving out any mention nuclear power.
She also told The Guardian that year, "I am wholeheartedly against fracking and drilling on public lands." At the time, she faced criticism for downplaying fracking's potential to wean our nation off coal and oil. Now she manages those same "public lands."
Haaland might be doing Americans a favor by remaining silent, after all.
The Horn editorial team