For anyone looking for further proof that conservatives are being silenced on social media platforms, look no further than former CIA security contractor Kris Paronto.
Over the weekend, Paronto was suspended from Twitter after he tweeted out harsh criticism for former President Barack Obama and the mishandling of the deadly Benghazi attacks in 2012.
Paronto is a former Army Ranger turned CIA contractor that was stationed at the U.S. embassy in Libya when radical Islamic terrorists attacked and killed four U.S. citizens.
BANNED: Why did Facebook remove this video? [sponsored]
Over the past seven years, Republicans have not forgotten that fearful day where Americans had to say their goodbyes to four heroes that lost their lives because of the Obama administration's mishandling of the attack.
To this day, no one in the administration has stepped forward taking accountability for their part in the Islamic terror attack even though there were signs of an oncoming attack months prior.
On Friday, Obama gave a speech in Illinois where he stated, "The politics of division and paranoia has found a home, unfortunately, in the Republican party. … they've embraced wild conspiracy theories by those surrounding Benghazi."
The former Benghazi hero, Paronto, responded to Obama on Twitter. He reminded the former president that he has not been able to forget his two friends that died as a result of Obama's mishandling of the attacks.
What!? Shocking Thing Found in California Man's Head [sponsored]
He was quickly censored and banned by the social media company —
Benghazi is a conspiracy @BarackObama ?! How bout we do this,let's put your cowardly ass on the top of a roof with 6 of your buddies&shoot rpg's&Ak47's at you while terrorists lob 81mm mortars killing 2 of your buddies all while waiting for US support that you never sent????????#scum

— Kris Paronto (@KrisParonto) September 7, 2018
Doctors are keeping quiet about THIS [sponsored]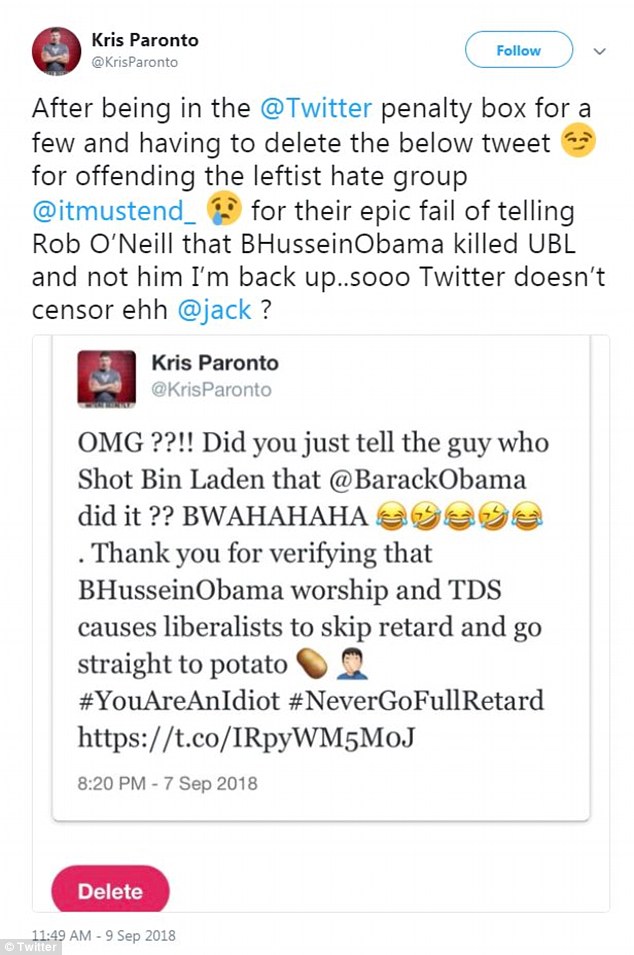 As a result of Paronto's passionate tweet, Twitter suspended the American hero from using any of his account features.
Sponsored: Why chicken salad might be all you need for healthy blood pressure
Twitter has now dropped a suspension on Benghazi hero @KrisParonto pic.twitter.com/8iJnEzd198

— Jack Posobiec ???????? (@JackPosobiec) September 9, 2018
Liberals and Obama have pretended that conservatives are not being silenced — but this American hero has shined a light on the major issue affecting our country.
In the 21st century, free speech must fit within the liberal narrative? This American hero was not afraid to step outside of the box  — there is truth behind his message and it is time that Americans are allowed to hear it.
Sponsored: Billionaire's Horrifying Prediction: '30 Million Will Die'
Democrats have a plan to win the 2018 midterm elections, and with social media platforms on their side they do stand a chance.
It is time for conservatives to rise up and get out and vote!
–Kylie Handler is a news editor for The Horn News