An aviation student in northern Minnesota pulled off a sky-high marriage proposal by writing "Marry Me" in the snow, then flying his long-time girlfriend over his handiwork.

Gavin Becker enlisted his family's help to pen the life-changing question using a snow blower on the frozen Eight Crow Wing Lake near Nevis.
Ed Becker, Gavin's father, tells KARE-TV that it took about 4½ hours to create the 25-foot-tall (7.5-meter-tall) letters and a huge heart.
Sponsored: When Olympic athletes have stiff joints, they do THIS…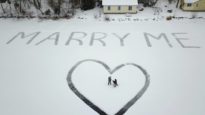 Gavin Becker, a University of North Dakota aviation student, then rented a plane and took his high-school sweetheart, Olivia Toft, for a trip over the lake Sunday.
Toft, realizing it was snow joke, told him "yes."
The Associated Press contributed to this article.