A Pennsylvania man who lost his daughter to a heroin overdose earlier this year said, "Enough is enough" — and seemed ready to fight against any heroin dealers he could find.
When a woman told her she received a text from a girl in New York City who felt trapped in a suspected heroin den, he and a friend were about to take action, cops said.
And they had a small arsenal with them, ready to storm the city.
John Cramsey was arrested with two other people after they were stopped while trying to drive through the Holland Tunnel with a cache of weapons and military-grade gear on their way to "rescue" a teenage girl involved with drugs in New York, according to officials and social media posts from two of the men.
One of the people told investigators that they were headed to Brooklyn to "rescue" a teenage girl before they were stopped in Jersey City, according to a law enforcement official. The official spoke to The Associated Press on the condition of anonymity because of the ongoing investigation.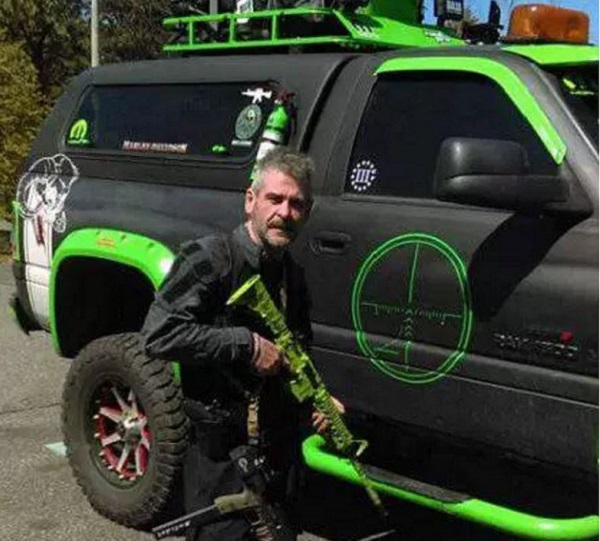 Cramsey, 50, and Dean Smith, 53, both of Zionsville, Pennsylvania, and Kimberly Arendt, 29, of Lehighton, each face several weapons charges. They remained in custody Tuesday night and could not be reached for comment; officials say they didn't know if any of the three had retained an attorney who could speak on their behalf.
Cramsey wrote on Smith's Facebook page early Tuesday morning that he was driving to New York to "do an extraction" of a 16-year-old girl from a hotel room in Brooklyn after an issue involving drugs. Smith replied, "I'm there." It was unclear what, if anything, the weapons had to do with their plans.
Cramsey's 20-year-old daughter died from a heroin overdose four months ago Tuesday and he has since attended town hall meetings around the Allentown area to voice his concerns over the drug epidemic, The Morning Call newspaper in Allentown, Pennsylvania, reported.
"This is a plague and we are losing our brightest and most brilliant minds," Cramsey told the newspaper shortly after his daughter was found dead of an overdose with another man inside an Allentown home.
Port Authority of New York and New Jersey police officers stopped the van around 7:40 a.m. in Jersey City for a cracked windshield, the agency said. An officer saw a weapon on a seat, and a subsequent search uncovered two rifles, five handguns and knives. Some of the weapons were loaded, authorities said.
A Port Authority photo, obtained by media outlets, also showed officers found a large amount of ammunition, a military-grade helmet and night-vision goggles. A bag with the words "Firearms Instructor" and box with the phrase "Shoot Your Local Heroin Dealer" were also in the vehicle.
The brightly colored Dodge van carried the name of a Pennsylvania gun range. The gun shop is registered to the same Zionsville address listed as Cramsey's address, according to records. Attempts to reach the business Tuesday were unsuccessful.
The Port Authority said there was no link to terrorism.
The Associated Press contributed to this article.