Peaceful free speech rallies aren't the only target of the violent alt-left — they want to rewrite all of American history, too.
Police say the famous Theodore Roosevelt statue on the steps of the American Museum of Natural History in Manhattan was desecrated with red paint last night — and the group claiming credit for the stunt says this is just the beginning.
HAUNTING: This video from Hillary's past won't go away… [sponsored]
They've promised to go after George Washington and Thomas Jefferson's legacy, too.
In a statement, the alt-left vandals — calling themselves the Monument Removal Brigade — cited the following statement from Trump —
Sad to see the history and culture of our great country being ripped apart with the removal of our beautiful statues and monuments. You…..

— Donald J. Trump (@realDonaldTrump) August 17, 2017
…can't change history, but you can learn from it. Robert E Lee, Stonewall Jackson – who's next, Washington, Jefferson? So foolish! Also…

— Donald J. Trump (@realDonaldTrump) August 17, 2017
…the beauty that is being taken out of our cities, towns and parks will be greatly missed and never able to be comparably replaced!

— Donald J. Trump (@realDonaldTrump) August 17, 2017
"A venerated U.S. president on the chopping block? Trump was on to something," the alt-left group wrote. They also promised more, potentially violent, action if historical statues celebrating America's history are not removed.
Sponsored: Prepare yourself for this coming disaster
The New York Post shared a picture of the group's handiwork —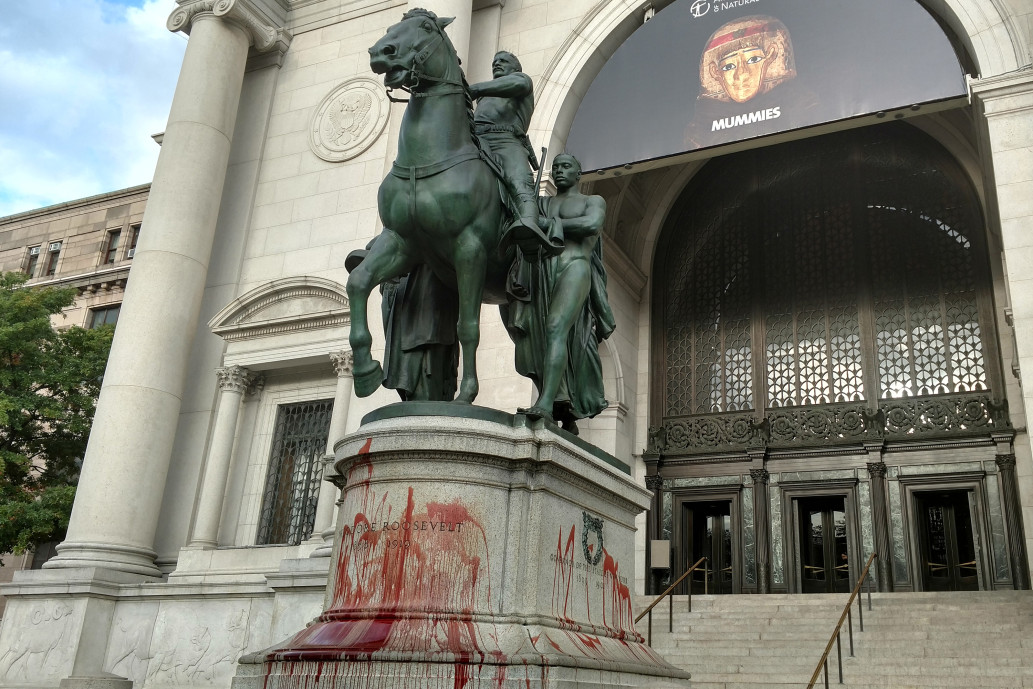 "We have no intent to damage a mere statue. The true damage lies with patriarchy, white supremacy, and settler-colonialism embodied by the statue," the alt-left organization wrote in their opening statement. "It is these forms of oppression that must be damaged again and again… until they are damaged out of existence."
The vandalism was discovered at about 7 a.m. Thursday.
The bronze statue by James Earle Fraser depicts the former president and New York police commissioner on horseback flanked by an African-American and a Native American. All are armed and gazing westward, an image of a united America conquering the untamed West. It was erected in 1939.
Have you seen the latest news about kneeling? [Sponsored]
This isn't an isolated incident. All across the United States, the alt-left have attacked and destroyed monuments to America's history, calling them white supremacist landmarks.
Last month in New York City, a statue of Christopher Columbus in Central Park was vandalized with graffiti saying "hate will not be tolerated" and his hands were painted red.
In Maryland, a statue of Francis Scott Key — the author of the National Anthem — was spray painted with the words, "Racist Anthem!" and a 200-year-old Christopher Columbus monument was destroyed.
In Illinois, a bust of Abraham Lincoln was set on fire and defaced. In Virginia, a statue of Thomas Jefferson was also desecrated by the alt-left.
Sponsored: Handwritten text warned of "alt-left" rise… in 1934
In Philadelphia, a statue of the cities former mayor was similarly vandalized by radical leftists.
#NOW Frank Rizzo statue vandalized tonight with white spray paint saying "Black Power" @6abc pic.twitter.com/djHINRfN80

— Christie Ileto (@Christie_Ileto) August 18, 2017