U.S. officials were scrambling to heighten security at airports and train stations — and were asking passengers to be alert — after a shocking series of terror bombings ripped through a Brussels airport and one of the city's metro stations Tuesday.
In the U.S., officials in New York, Washington, D.C., and Los Angeles said they were ramping up security in response to the deadly bombings that killed at least 31 people and wounded more than 100 more.
Security was stepped up throughout New York City on Tuesday following the explosions in the Belgian capital.
"The New York City Police Department is closely monitoring the situation in Belgium and is in close contact with our international partners and with the FBI," the NYPD said in a statement.
In D.C, the Metro authority released the following statement:
No known, specific or credible threat to Metro at this time. Additional K9 sweeps + patrols starting this AM as precaution. #wmata

— Metro Transit Police (@MetroTransitPD) March 22, 2016
The two airport blasts, at least one of which was blamed on a Islamic suicide bomber, left behind a chaotic scene of splattered blood in the departure lounge as windows were blown out, ceilings collapsed and travelers streamed out of the smoky building.
About an hour later, another bomb exploded on a rush-hour subway train near the European Union headquarters. Terrified passengers had to evacuate through darkened tunnels to safety.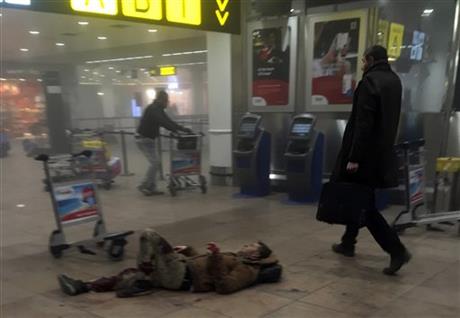 At the nearby NATO headquarters, Jens Soltenberg, secretary general of the alliance, told Military.com, "At the present time, we have accounted for all our U.S. military members who were in the region at the time of the attack."
Soltenberg went on, "We have decided to increase the alert state at NATO Headquarters. We remain vigilant and continue to monitor the situation very closely."
"What we feared has happened," Belgian Prime Minister Charles Michel told reporters. "In this time of tragedy, this black moment for our country, I appeal to everyone to remain calm but also to show solidarity."
Belgium raised its terror alert to the highest level, diverting planes and trains and ordering people to stay where they were. Airports across Europe and the United States immediately tightened security.
"We are at war," French Prime Minister Manuel Valls said after a crisis meeting called by the French president. "We have been subjected for the last few months in Europe to acts of war."
European security officials have been bracing for a major attack for weeks, and warned that the Islamic State group was actively preparing to strike. The arrest Friday of a key suspect in the November attacks in Paris heightened those fears, as investigators said many more people were involved than originally thought, and that some are still on the loose.
At Brussels' Zaventem airport, the two explosions hit the departures area during the busy morning rush. Belgian Health Minister Maggie de Block told Belgian media that 11 people were killed and 81 injured.
Zach Mouzoun, who arrived on a flight from Geneva about 10 minutes before the first blast, told BFM television that the second, louder explosion brought down ceilings and ruptured pipes, mixing water with victims' blood.
"It was atrocious. The ceilings collapsed," he said. "There was blood everywhere, injured people, bags everywhere."
"We were walking in the debris. It was a war scene," he said.
The first explosion reportedy took place near the American Airlines counter, and the second blast hit near the Starbucks cafe.
"We heard a big explosion. It's like when you're in a party and suddenly your hearing goes out, from like a big noise," Deloos said, adding that shredded paper floated through the air as a colleague told him to run.
"I jumped into a luggage chute to be safe," he said.
The bomb that went off an hour later on the subway train killed 20 people and injured more than 100, Brussels Mayor Yvan Majeur said.
"The metro was leaving Maelbeek station for Schuman when there was a really loud explosion," said Alexandre Brans, 32, wiping blood from his face. "It was panic everywhere. There were a lot of people in the metro."
Near the entrance to the station, rescue workers set up a makeshift medical treatment center in a pub. Dazed and shocked morning commuters streamed from the metro entrances as police tried to set up a security cordon.
The metro shut down after the attacks, as did the airport. More than 200 flights to Brussels were diverted or canceled, according to flight tracking service Flightradar24.
At least one and possibly two Kalashnikovs were found in the departure lounge at the airport, according to a European security official in contact with Belgian police who spoke on condition of anonymity because he was not authorized to speak about the ongoing investigation.
The Associated Press contributed to this article.