A single yellow rose at a 9/11 memorial. A wreath in remembrance. A promise to do better in caring for those who have served. Parades of thousands.
Across the United States on Wednesday, Americans found ways big and small to honor and remember members of all branches of the U.S. military on Veterans Day. The day marks the anniversary of the armistice that ended World War I and has become a day to honor all current and former veterans around the world.
A look at how the day was being observed around the globe:
Parades of Pride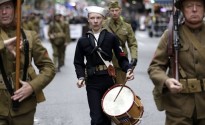 Parades and other celebrations are being held throughout the country. New York City is hosting its 96th annual parade, the largest celebration of service in the nation. "America's Parade" featured more than 20,000 participants, including marching bands, floats, veterans and military units.
Texas plans parades in Houston, Dallas, Fort Worth and Laredo, as well as a remembrance ceremony at Fort Sam Houston National Cemetery in San Antonio. In Indianapolis, crowds are expected to line downtown streets as the parade passes by the city's war memorials and monuments.
Seeking better care for Vets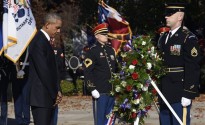 President Barack Obama laid a wreath at the Tomb of the Unknowns and urged the nation to keep veterans in their thoughts long after Veterans Day.
In a ceremony at Arlington National Cemetery, Obama said the nation is boosting funding for the Department of Veterans Affairs and making progress on long-standing issues of veteran homelessness and in reducing a backlog of disability claims.
Honoring the fallen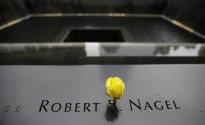 Flowers and prayers were left at the graves of the fallen heroes across the nation in private ceremonies.
In New York, a single yellow rose was placed at the south pool of The National September 11 Memorial & Museum in honor of Veterans day on the name of first responder and Vietnam war veteran Robert Nagel who died during the Sept. 11 terrorist attacks, Wednesday, Nov. 11, 2015, in New York.
Europe pays tribute to their dead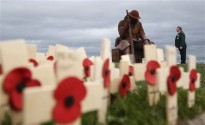 Church bells tolled across Europe on Armistice Day to pay tribute to the millions of soldiers killed during World War I.
In Paris, thousands of people lined the Champs Elysees to watch President Francois Hollande lay a wreath at the Arc de Triomphe, where an eternal flame burns aside France's Tomb of the Unknown Soldier.
In Britain, crowds paused to observe two minutes of silence in streets and town squares, offices, churches and railway stations. Hundreds stood quietly in London's Trafalgar Square and around the Cenotaph memorial in central London as the bongs of Parliament's Big Ben bell sounded the hour.
The Associated Press contributed to this article