Left-wing protesters have nearly caused riots at Republican rallies this year, especially those hosted by billionaire Donald Trump.
And with the Republican National Convention just months away, police are preparing for more of the same.
Cleveland will host the convention in July, and the Cleveland Police Department is stocking up on riot gear in time for the event, according to the Cleveland Plain Dealer.
And they're not just buying a few extra shields and billy clubs.
They've ordered 2,000 state-of-the-art riot suits called the "Elite Defender," which look like something the U.S. Marines might wear.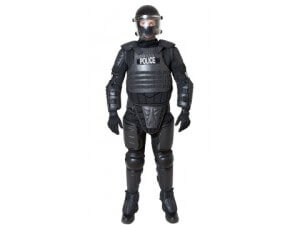 The cops are also getting 26-inch long batons. The average MLB baseball bat, by comparison, is about 34 inches.
The Cleveland PD is also buying hundreds of sets of another type of riot gear to be used by cops on bikes, 25 sets of tactical armor and miles – 3.5 miles to be exact – of barriers that range from 3.5 feet in height to 6.5 feet.
Trump wants to build a wall on the Mexican border… but it looks like we might get one in Cleveland first.
Maybe they're really expecting a riot. On the other hand, this could also be a local police department getting the most it can while the getting's good – and it's extra good at the moment.
Hosting the RNC comes with some perks, like a $50 million federal grant for security – and the Cleveland Police Department appears ready to spend every last cent of it.
And if there is unrest, you can bet the left-wing media will blame it all on Republicans, especially Trump supporters.
In reality, no one attending any Republican event in good faith has gone out looking for fights, either during or after.
At the Trump rally in Chicago earlier this month that was canceled due to protesters, the organizers even urged disappointed supporters to "go in peace" as they left the event.
But outside, they found anything but peace. They found lefty anarchists – a mob scene of what Trump himself called "professional protesters" – who were looking to cause trouble and make headlines.
They accomplished both.
If there is unrest in Cleveland, it almost certainly won't be caused by supporters of Trump, Ted Cruz, John Kasich or anyone else seeking the GOP nomination.
It will be from the lawless left-wing groups – groups that are almost certainly planning right now to disrupt the event no matter who wins the nomination.
– The Horn editorial team