Billionaire Donald Trump didn't have to wait long to face blowback for his decision to pull out of the Conservative Political Action Conference (CPAC), the largest gathering of conservatives in America.
Trump, the current GOP frontrunner, was scheduled to speak before CPAC activists this weekend, but dropped the event at the last minute to attend a rally in Kansas.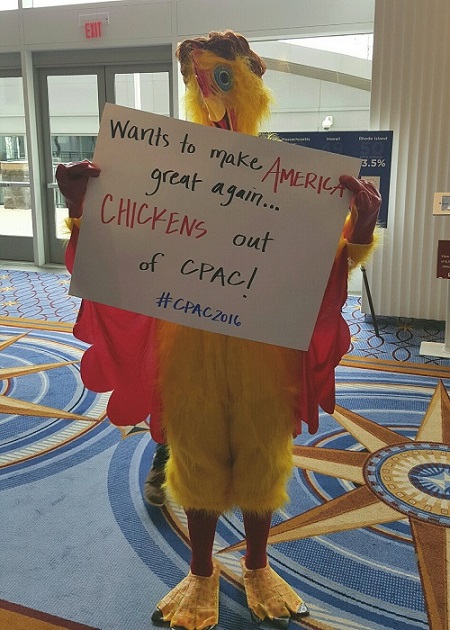 The decision led to anger among conservatives, some of whom were expected to give Trump a frosty reception, and derision from his rivals.
Trump's closest rival, Texas Sen. Ted Cruz, didn't wait long to pounce. On Saturday the Cruz campaign dispatched a person in a chicken suit and a Trump wig to CPAC to mock Trump.
The chicken carried a sign reading, "Wants to make America great again… Chickens out of CPAC."
Representatives from the Cruz campaign also handed out phony diplomas to Trump University, Trump's real estate training venture that is currently the subject of multiple lawsuits.
Trump's decision to ditch CPAC has been the talk of the conference, which The Horn News covered live, and has drawn sharp rebuke from the American Conservative Union, which hosts the event.
The ACU has insinuated that Trump pulled out because he didn't want to answer questions from audience members and his campaign tried to dictate the format.
Cruz was especially harsh on Trump's decision not to attend CPAC, which typically draws all major conservative presidential candidates.
"I think someone told him Megyn Kelly was going to be here," Cruz sad, referring to Trump's Fox News nemesis. "But worse, he was told conservatives were going to be here."