It's a joke making the rounds online, and like all good gags it's funny because there's a kernel of truth in it.
Why don't Republicans riot? Because they have to get up in the morning for work!
Supporters of Republican presidential frontrunner Donald Trump have been repeatedly accused of instigating violence – yet the only place this violence ever seems to happen is at Trump rallies.
If Trump supporters were truly bad eggs, wouldn't they be showing up at Hillary Clinton and Bernie Sanders events to raise trouble?
The media has focused on a couple of incidents where Trump supporters started to push back. But what the mainstream media won't show you is that in most cases, it's the liberal thugs showing up at these events who are resorting to violence.
Meanwhile, Trump supporters out exercising their Constitutional rights – hard-working men and women who have to be up in the morning for their jobs – are often the victims.
Here are 10 of the biggest moments the anti-Trump crowd doesn't want you to see:
#1) Chicago riots
In March, an unruly mob took to the streets of this lawless city – but they weren't out to demand an end to the gun violence, which has the city on pace for 500 deaths this year.
They shut down the streets, clashed with Trump supporters and even threw bottles at police.
Out of concern for everyone's safety, Trump cancelled the rally. He and his supporters were denied their First Amendment rights by a gang of lawless thugs.
Dangerous and sad. This happened in Chicago, outside the canceled Donald Trump rally/counter protest. #NeverTrump pic.twitter.com/qBa4CxZ4fy

— Sol Rieger (@SolRieger) March 15, 2016
—
#2) Attacking a handicapped Trump supporter

Want to know what it's like to be a Trump supporter in a public place?
Here's a short video shot by a man in a wheelchair who had the nerve to wear a Trump button.
You're not going to believe what he had to put up with!
@RealAlexJones God forbid if I try to cross the street in a wheelchair with a Trump button on! pic.twitter.com/0AmQbirDyL

— Kevin Westcott (@HighCapacity223) March 12, 2016
—
#3) Not even the police are safe
In many cases, these aren't just protesters. They're "professional" protesters – a group of violent anarchists out to cause a scene.
Here's what happened to a Chicago police officer who had the nerve to try to protect civilians at a Trump event.
Video: 2 Officers Injured During Trump Rally in Chicago: Chicago police say two… https://t.co/HHCzSZhDTv #Police pic.twitter.com/nkqAn5lyvS

— POLICE Magazine (@PoliceMag) March 22, 2016
—
#4) This woman
The loving and tolerant left strike again #Trump2016 #TrumpChicago #TrumpIsRight @realDonaldTrump #trump #GOP pic.twitter.com/zryu9XMbvU

— Art Is War USA (@ArtIsWarUSA) March 24, 2016
If her sign had President Obama's name in there… or even Hillary Clinton's… the Secret Service would be on her like white on rice, and she'd be all over the 6 o'clock news as an example of a supposedly violent Trump supporter.
Instead, she's practically a social media celebrity for seeking donations to "kill" Donald Trump.
—
#5) More attacks on police
These thugs attacked a police car in California last week – smashing the rear window right out of the cruiser and trying to tip it over.
From earlier, when protesters were trying to flip the police car pic.twitter.com/6tY3dzMOgx

— Jim Dalrymple II (@JimDalrympleII) April 29, 2016
Why?
The police weren't there to support Trump. They were there to ensure safety – and if the Trump supporters were as violent as the media had claimed, you'd think the leftists out to "protest" would want them there.
These people aren't afraid of Trump supporters. They despise law and order – and they're afraid voters will find out what they're really up to.
—
#6) Kicking and spitting
California Republicans had a hard time getting to their own convention, as protesters blocked access and harassed attendees – especially those wearing Trump shirts and hats.
One man was kicked and spit on by the left-wing protesters… for the "crime" of supporting a political candidate.
This is the kind of thing that happens in Third World countries… but now it's happening in the United States.
Watch some of the shocking footage here.
Violence at anti-Trump protests continue for the 2nd day at his California rallies.https://t.co/4jLH9bQvl4

— Fox&Friends Weekend (@ffweekend) April 30, 2016
—
#7) And being beaten, too
Trump supporters at a different California event also had to put up with violence – and some of them were beaten bloody by the so-called "peaceful" protesters.
One of the attacks was caught on video, as "protesters" robbed a man of his Trump items, then beat him when he tried to get them back.
RAW: Trump Supporter Beaten Bloody By Protesters – https://t.co/kOAOA7Vipr

— Ricky Vaughn (@Ricky_Vaughn99) April 30, 2016
—
#8) Shutting down roads
The left is so afraid of Trump's message they will shut down a highway in Arizona to try to prevent him from speaking and stop people from hearing his message.
But that highway wasn't just full of Trump supporters.
Those were everyday people trying to get home from work and pick up their kids… maybe even get medical help.
And they were blocked by a violent leftist movement.
Road to AZ Trump rally shut down by professional protesters
Book 'em, Dano pic.twitter.com/t1Ol7NF8qo

— Billy Jack (@4Billy_Jack) March 19, 2016
—
#9) Spreading hate to children
This next image is the most disturbing of all… not because it shows blood or violence, but the indoctrination of children into a movement built on hate.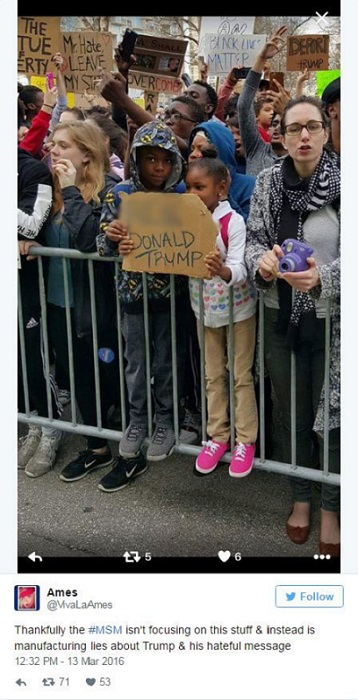 Surely, Republicans and Democrats alike should be able to see the problem with that.
—
#10) A black cop tells it like it is
Black lives matter… unless that black life is a cop.
Brandon Tatum, a black Tucson police officer, said he "gained a lot of respect for Donald Trump" after attending a rally in plain clothes to see what really goes on.
And what he saw were Trump supporters being harassed and provoked by "the most hateful, evil people I've ever seen."
Trump may have summed it up best earlier this year.
"These are bad people, I'm telling you," he said of the protesters. "And they're not really protesters. They're agitators."