The Philadelphia science museum already was hosting a blockbuster exhibit of Lego sculptures and preparing to unveil a huge display of Holy See treasures for the pope's visit when administrators got a serendipitous inquiry.
Would they like to see a model of the Vatican that a priest built entirely of Legos?
"It's amazing," said Larry Dubinski, president and CEO of The Franklin Institute, where the plastic brick structure is now on view in downtown Philadelphia. "People are in awe."
The Rev. Bob Simon spent about 10 months constructing a mini St. Peter's Basilica out of a half-million Legos. His architectural feat includes a Lego pope on a balcony overlooking the crowd in St. Peter's Square, which itself is made up of about 44,000 Lego pieces resembling cobblestones.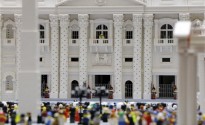 A colorful cast of Lego characters populates the piazza, including a nun with a selfie stick and a bespectacled figurine of Simon. All told, the display measures 14 feet by 6 feet and weighs about 100 pounds.
"It was daunting," said Simon. "It was an exercise in patience, and I was thrilled with the way everything came out."
Simon said he built his first, rather crude, Lego model of the Roman Catholic church's headquarters when he was in seventh grade. Today, he serves as pastor at St. Catherine of Siena church in Moscow, Pennsylvania, about 100 miles north of Philadelphia. He's been to the real Vatican five times.
To create the model, Simon used an image from a book cover as a guide. The hardest part was creating the round basilica dome from square bricks, he said. Although he looked for hints by watching YouTube videos, "I hardly understood what I was watching."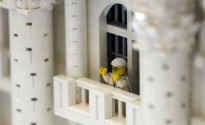 "I'm also not really great at math, so I was daunted by that as well," he said.
Yet he persevered. Using Lego life preservers to replicate the dome's windows — one of many ways he repurposed various shapes — he delicately built the structure without glue.
Denise Brownell, visiting the museum from Phoenix, was duly impressed. "It's just such a perfect replica of the real thing," he said. "It's just awesome."
Simon started the project a year ago in an empty room in his rectory. He finished in time to bring it to BrickFair, a Lego convention held over the summer near Washington, D.C., where it received many accolades. A friend then suggested The Franklin Institute might be interested.
Simon's creation is being displayed alongside "The Art of the Brick," an exhibit of Lego sculptures, and "Vatican Splendors," which opens Saturday. The latter includes art, vestments and religious relics from the Holy See.
There are no plans for the pope to see the Lego Vatican while he's in Philadelphia. But Simon hopes to see Francis: He will participate in the papal Mass on Sept. 27.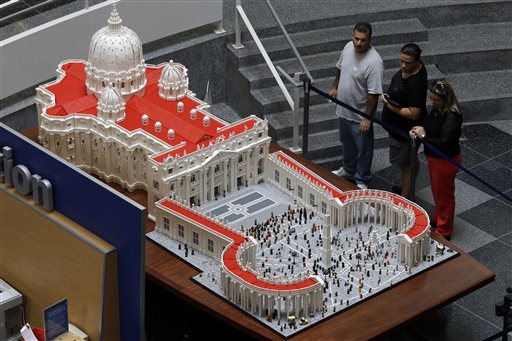 The Associated Press contributed to this article