As the shutdown battle between President Donald Trump and House Speaker Nancy Pelosi is playing out, the president just flexed serious political muscle on the Democratic leader.
If she's refusing to fund the government, Trump announced, she'll have to start paying for her own plane flights.
Sponsored: Ark's Final Resting Place
No more luxury charter trips on the taxpayer's dime while negotiations to end the month-long partial government shutdown remain stalled.
In dramatic fashion, Trump issued a letter to Pelosi on Thursday, just before she and other lawmakers were set to depart on the previously undisclosed trip to Afghanistan and Brussels. Trump belittled the trip as a "public relations event" and said it would be best if Pelosi remained in Washington to negotiate to reopen the government.
"Obviously, if you would like to make your journey by flying commercial, that would certainly be your prerogative," wrote Trump.
President @realDonaldTrump's letter to @SpeakerPelosi concerning her upcoming travel pic.twitter.com/TtBCvwp080

— Sarah Sanders (@PressSec) January 17, 2019
The move caught liberal lawmakers off guard. A bus to ferry the legislators to their departure idled outside the Capitol on Thursday afternoon.
Sponsored: [BREAKING] Medical breakthrough can reverse your biological age!
Outside her office, Pelosi's bags were returned to her. The Washington Free Beacon shared the following image —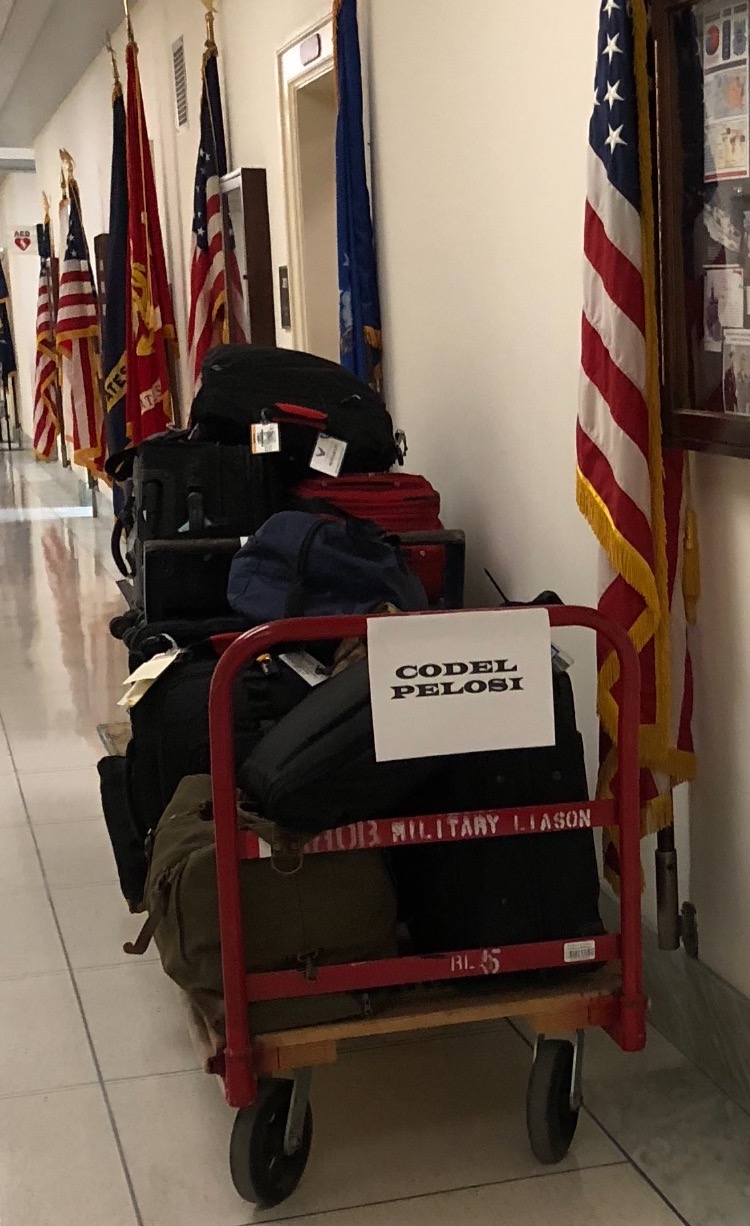 The political tit-for-tat between Trump and Pelosi laid bare how the government-wide crisis has devolved into an intensely pointed clash between two leaders determined to prevail.
BREAKING: Whistleblower Drops BOMBSHELL During Shutdown [sponsored]
While there were few signs of progress Thursday, Vice President Mike Pence and senior adviser Jared Kushner dashed to the Capitol late in the day for a meeting with Republican Senate Majority Leader Mitch McConnell.
And the State Department instructed all U.S. diplomats in Washington and elsewhere to return to work next week with pay, saying it had found money for their salaries at least temporarily.
For security reasons, Pelosi would normally make such a trip on an aircraft supplied by the Pentagon. According to a defense official, Pelosi did request Defense Department support for overseas travel and it was initially approved before the government was in a shutdown. The official wasn't authorized to speak by name about the matter, so spoke on condition of anonymity.
The official said the president does have the authority to cancel the use of military aircraft.
Spnosored: WATCH: Hillary's Anti-American Stunt
The move left Democratic lawmakers furious. Rep. Adam Schiff of California slammed Trump for revealing the closely held travel plans.
"I think the president's decision to disclose a trip the speaker's making to a war zone was completely and utterly irresponsible in every way," Schiff said.
White House spokeswoman Sarah Huckabee Sanders said Trump wanted Pelosi to stay in Washington before Tuesday, a deadline to prepare the next round of paychecks for federal workers.
"We want to keep her in Washington," Sanders said. "The president wants her here to negotiate."
The White House also canceled plans for a presidential delegation to travel to an economic forum in Switzerland next week, citing the shutdown.
Sponsored: Concerned about your memory? Try THIS (works in 1 hour)
And they said future congressional trips would be postponed until the shutdown is resolved, though it was not immediately clear if any such travel — which often is not disclosed in advance — was coming up.
Trump was taken by surprise by Pelosi's move earlier this week to postpone his State of the Union address and told one adviser it was the sort of disruptive move he would make himself, according to a Republican who is in frequent contact with the White House.
While he maintained a public silence, Trump was reportedly delighted at the idea of canceling Pelosi's trip, believing the focus on the resources needed would highlight her hypocrisy for cancelling his speech, according to the Republican source.
Trump has still not said how he will handle Pelosi's attempt to have him postpone his State of the Union address until the government is reopened so workers can be paid for providing security for the grand Washington tradition.
Trump declined to address the stalemate over the speech during a visit Thursday to the Pentagon, simply promising that the nation will have "powerful, strong border security."
Sponsored: 90-year-olds becoming 30-year-olds
Meanwhile, Pelosi reiterated that she'll refuse to even consider funding the much-needed border security measures the White House has demanded.
The shutdown, the longest ever, entered its 28th day on Friday. The previous longest was 21 days in 1995-96, under President Bill Clinton.
In a notice to staff, the State Department said it can pay most of its employees beginning Sunday or Monday for their next pay period. They will not be paid for time worked since the shutdown began until the situation is resolved, said the notice.
The Associated Press contributed to this article