On June 20th, 2012, President Donald Trump made a bold prediction about the U.S. housing market — and promised that in five years, those who followed his advice would thank him.
Born before 1965? Check out this Unusual "Perfect Retirement Side-Job" [sponsored]
Now that time has passed, experts have taken a look at the data… and the results are staggering.
Now is the time to buy housing, before values have fully recovered. In 5 years, remember I told you so.

— Donald J. Trump (@realDonaldTrump) June 20, 2012
Financial experts revisited the accuracy of Trump's tweet on Tuesday, exactly five years later.
What did they determine?
[Strange footage] Have you tried Googling THIS address? [sponsored]
He totally nailed it.
"Using the Federal Reserve's endlessly useful data tool, we pulled data on housing prices from 2004 to 2017. (Why 2004? To show the pre-recession gains.)," The Washington Post reported. "We can start with the House Price Index. Trump's tweet about buying housing happened in the second quarter of 2012 — at the index's low. (The recession is indicated by a light blue box.)"
They shared the following photo (talk about jaw dropping) —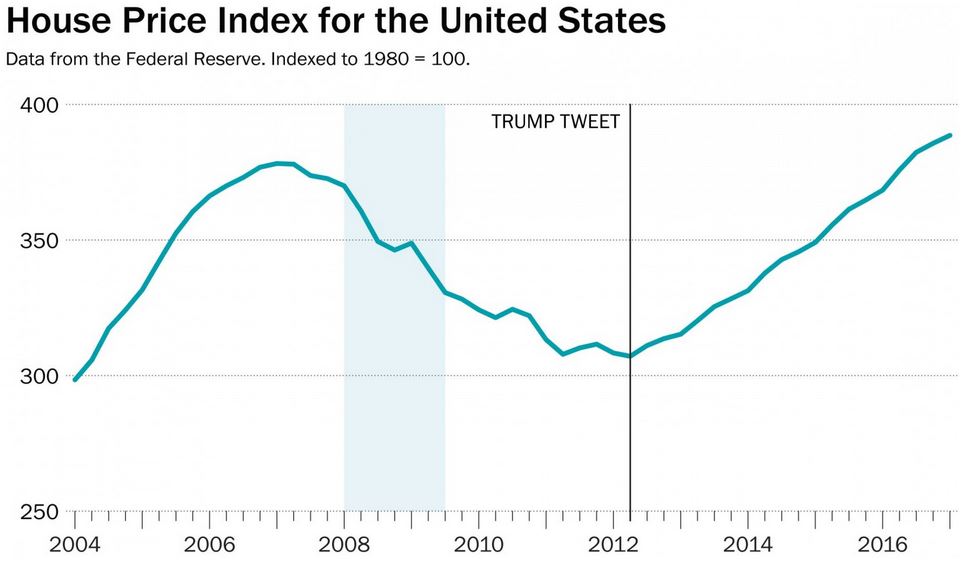 Wow.
Trump nailed the HPI low — and if you'd invested where Trump had said, you'd have made a killing.
New "Retirement Cash Calendar" Helps Boomers Collect $480 Per Week [sponsored]
No wonder Trump is a self-made billionaire and leader of the free world.
— The Horn editorial team