Talk about counting sheep!
Spanish shepherds recently led 2,000 sheep through the streets of Madrid in defense of age-old grazing and migration rights that are increasingly threatened by urban sprawl and fenced-in pastures.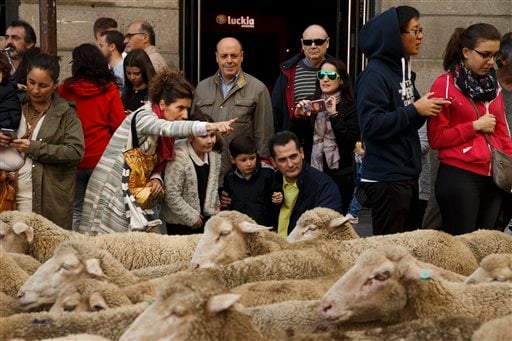 Tourists and children were surprised to see wide avenues blocked off in the Spanish capital to let the woolly parade — bleating loudly and clanking bells — cross the city, accompanied by sheepdogs.
Government agriculture spokesman Carlos Cabanas says the tradition is essential to "maintain native breeds that are in danger of extinction."
Shepherds have held the right since at least 1273 to use droving routes across land that used to be open fields before Madrid became a sprawling metropolis.
A shepherd handed over 150 maravedies — coins minted in the 11th century — to city officials for the crossing.
The Associated Press contributed to this story.