Ever wonder what it's like at a fancy White House state dinner for foreign dignitaries? We admit, we're more the steak-and-potatoes type, but that doesn't mean we wouldn't accept the invitation when it's sent. Until then, we'll have to admire the photos.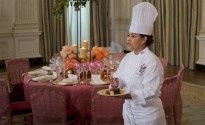 At Friday's White House state dinner for China, Maine lobster is on the menu. The lobster will be poached in butter and served with traditional rice noodle rolls embedded with spinach, shiitake mushrooms and leeks when President Barack Obama and his wife, Michelle, welcome Chinese President Xi Jinping and his wife, Peng Liyuan, to dinner in the East Room with a few hundred guests.
"Maine lobster is in season," White House executive chef Cristeta Comerford said Thursday, as she and other White House staff showed off the table setting, menu items, decor and entertainment for the news media.
Grammy Award-winning R&B singer Ne-Yo will perform after dinner.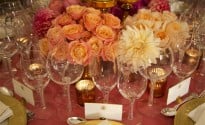 Chinese-American chef Anita Lo will work with Comerford and her staff to prepare the menu, which the White House said is inspired by autumn and highlights "American cuisine with nuances of Chinese flavors."
That translates into wild mushroom soup paired with Shaoxing rice wine, lobster, and grilled cannon of Colorado lamb served with cubes of tempura-fried panna cotta. Dessert will be poppy seed bread and butter pudding with Meyer lemon curd and lychee sorbet. Each table will also share a communal dessert plate that pays tribute to gardens and consists of a handmade chocolate pavilion and bridge, sugar roses and miniature pastries.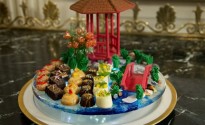 A state dinner is the glitzy finale to a state visit, a high honor usually reserved for longstanding and close U.S. allies. That China is the recipient for the second time under Obama is unique, as the two nations continue to differ sharply on issues such as human rights and cybersecurity.
White House Social Secretary Deesha Dyer, who had the challenge of making this dinner stand out from the last one, couldn't stay at the media preview long enough to explain how she handled it.
"As much as I would like to stay with you all, I've got to head out," Dyer said. "I've got a little bit of work to do."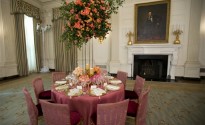 Desiree Rogers, a former social secretary for Obama who planned more than 300 events, including a state dinner for the Indian prime minister, said the goal is to "make it just as, if not more enjoyable, than the last time for the group."
The White House works closely with the State Department for guidance on cultural dos and don'ts to personalize the experience for the guest, she said.
"The goal is to really have them be over the moon with the evening," Rogers said.
Rogers said some points to consider when planning a dinner for a returning country are: If the previous meal was held indoors or outdoors, could the location be reversed? If it was held indoors, could it be moved to a different room? How can the entertainment be done differently?
A blending of influences from both countries is a time-tested strategy from past state dinners.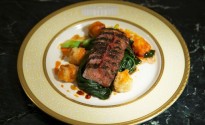 A dinner last April honoring Japanese Prime Minister Shinzo Abe mixed cuisines from both countries with Caesar sashimi salad presented in the style of a Japanese gift, Wagyu beef and an American-style cheesecake made of tofu and soymilk. "Iron Chef" Masaharu Morimoto helped prepare the meal. Mrs. Obama did her part by wearing a purple sleeveless gown with tulle skirt and lace details made by Japanese-born designer Tadashi Shoji.
Lea Berman, who welcomed leaders from Australia and India as White House social secretary under President George W. Bush, said White House events are always different even though they follow a similar format.
In recent years, the chefs have been inspired by Mrs. Obama's White House vegetable garden. Squash and pumpkin from the garden will be served Friday.
"Every single event at the White House is different," Berman said. "There are a half-dozen ways to do something like a China visit. They'll make it unique."
The Associated Press contributed to this article