A fast-moving spring snowstorm swept through parts of the Northeast, spreading a wintry mix that made for a slow, slippery and slushy commute to start the work week.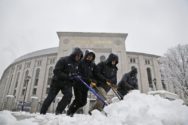 The storm stretched from Ohio to coastal southern New England early Monday, and northern New Jersey took a hard hit with 4 to 8 inches of snow accumulation, leading to dozens of vehicle spinouts and crashes. A winter weather advisory was issued for parts of New York, and a steady snow forced the Yankees to postpone their scheduled 1:05 p.m. home opener against Tampa Bay.
Sponsored: Ronald Reagan's cancer cure finally revealed?
Some school districts closed for the day and others opted for a delayed opening. In the New York City area, LaGuardia, Kennedy and Newark Liberty airports all reported some flight disruptions.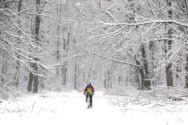 The storm was to move off the coast later Monday, giving way to warming temperatures and melting.
Monday's snowstorm was the fifth in the area after four nor'easters in March.
The Associated Press contributed to this article.