President Donald Trump has frequently complained about the mainstream media's bias against him — and during his address to Congress last night, he was finally able to bypass the corporate spin machine and take his message straight to the American people.
Hillary Plotting New Takeover [sponsored]
And their reaction was incredible.
According to multiple sources, voters overwhelmingly rated Trump's speech positively.
Even CNN, which Trump has frequently labeled "fake news" for their biased attacks against him, was admitted the speech scored big among Americans. The network's post-speech CNN/ORC polling found that 69% of speech watchers said Trump's policies will move America in the right direction, compared to just 26% who reacted negatively. 69% percent felt the speech made them more optimistic, while only 28% said pessimistic. And a whopping 78% of viewers reported an overall positive reaction to Trump's speech, compared to just 21% negative.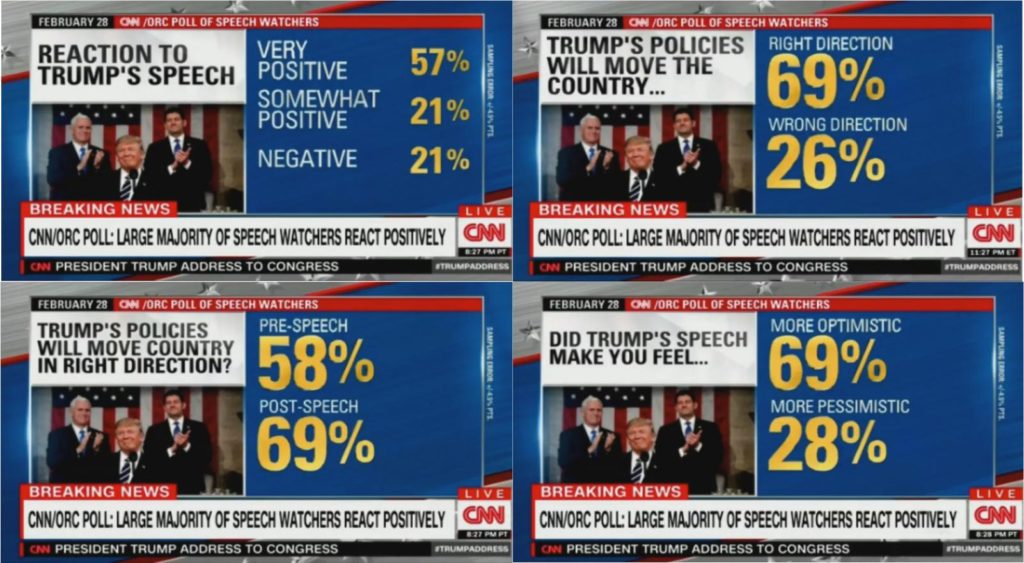 Mike Mullowney, of Boston, who did not vote for Trump, sat down with his family to watch "a complete circus" and was instead shocked to find a poised president outlining clear goals.
"I am blown away," Mullowney said. "He really sounds like he's got a plan."
The message was the same as ever: Loud, clear condemnation of "radical Islamic terror" and immigrant criminals. But this time, there was no media spin on his words.
It was just the president speaking to millions of Americans — and the reaction has some liberals scrambling for damage control.
This was a very good speech. That is a problem.

— Richard Callow (@publiceyestl) March 1, 2017
It's because most Americans were moved by the presidential address. For example, Kim Jurincic watched the speech at a pizza-and-viewing party in the Detroit area and told The Associated Press, "He was presidential tonight. He had to be."
URGENT: Get this memory-booster before Big Pharma has it banned [sponsored]
Cass Connolly, a 71-year-old attorney, said Trump is "getting better at" speech-making. "He's getting more comfortable."
Not everyone's reactions were positive, of course. During the speech, Democrat leaders continued to play politics —
Pelosi refuses to applaud when Trump announces thousands of new jobs created. #trumpaddress

— Charlie Kirk (@charliekirk11) March 1, 2017
The Associated Press contributed to this article