Just two years ago, President Joe Biden won a landslide victory in all three deep blue states on the Pacific Coast.
Incumbent Democrats on the Left Coast facing re-election this November are facing much slimmer chances of keeping their seats in the U.S. Senate — and Democratic Party leadership has taken notice and started pouring millions into their campaign war chests.
Sponsored: Easy Tongue Secret Delivers Perfect Sleep
U.S. Sen. Patty Murray, D-Wash., is up for re-election this year. She has held the seat since 1993, and she's held a leadership position among Senate Democrats for more than 20 years, even longer than Senate Majority Leader Chuck Schumer.

As the Senate's third-most senior Democrat in a very blue state, Murray should be coasting to re-election… but she doesn't seem so sure of her prospects.
Murray has spent more than $1 million in a flurry of television ads, Politico reported Tuesday.
Murray has been shelling out money for attack ads against Republican candidate Tiffany Smiley, a former nurse and an activist for veterans' causes.
In the polls, Murray still remains slightly ahead… but only slightly.
The Democrats hold only 50 out of the 100 seats in the Senate, with Vice President Kamala Harris serving as the tiebreaking vote. To flip the chamber, the Republicans need a net gain of only one seat this November, and they're eyeing Murray.
Farther inland, Democrat Sen. Michael Bennett of Colorado finds himself on the defensive, too.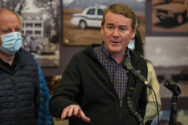 "I had a very tough race in 2010. That was a very tough cycle. I chaired the DSCC in 2014. That was a really tough cycle. In 2016, it turned out to be another tough cycle," Bennet said last month, according to Politico. "This is going to be another one of those."
Sponsored: Could Weird Treatment "Undo" 60 Years Of Aging?
For this race, the Democrats exercised an odd strategy: boosting a far-right conservative candidate in the primary race.
According to Politico, a Democrat-affiliated committee shoveled $3.9 million into an ad campaign for Republican candidate Ron Hanks, a Republican congressman whose pro-life views are likely unpopular with the state electorate.
Despite the efforts, Hanks has lost the primary race on Tuesday.
Meanwhile, The New York Times has predicted that California could elect a Republican as state controller. It could be GOP's first statewide victory in California since 2006.
The Horn News has previously reported on Republican gains in the West. Independent candidate Ann Davison, formerly a Republican, won Seattle's prosecutorial race last year over a "defund" candidate. Oregon Gov. Kate Brown, a Democrat, has repeatedly ranked 50th in popularity polls of our nation's governors, and she may be succeeded by a Republican.
Democrats seem to be losing ground… even in deep blue states.
The Horn editorial team