Checking out a speedboat, a fighter jet, and a giant industrial magnet parked on the White House driveway, President Donald Trump showcased an array of "Made in America" products Monday.
Trump hosted companies from across the country to the White House for the second annual event, which came just one week after Trump's new initiative where private sector leaders pledged to develop American workers.
Trump's event highlighted the president's commitment to ensuring that more products are made in America, rather than being outsourced to other countries.
Sponsored: The unpublished Bible secret that no documentary will touch…
The event included high-level administration officials such as the president, vice president, members of the cabinet, and other senior staff.
The White House set a rule that all products "should contain no – or negligible – foreign content. The product's final assembly or processing must take place in the U.S."
Trump opened the showcase by admiring the work of the hardworking Americans behind the products —
[Health Alert] Popular Cracker Labeled "Deadly" [sponsored]
On the South Lawn, the president walked among a number of products manufactured across the nation, including a Lockheed Martin F 35 aircraft from Maryland, a Ford F-150 pickup truck from Michigan, a Newmar recreational vehicle from Indiana and a Ranger speedboat from Arkansas.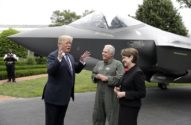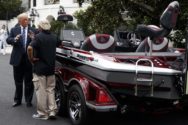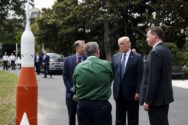 Sponsored: Bring back your strength with THIS DRINK
The Associated Press contributed to this article.