Democrats have announced their intention to impeach President Donald Trump – and the effort is being led by a previously unknown California Democratic Rep. Maxine Waters.
Sunday, Waters led an anti-Trump rally and told the angry crowd she would work tirelessly towards only one goal: the impeachment of the 45th president.
Sponsored: Surprising New Law Gives "Cash Rebate" to 119 Million Americans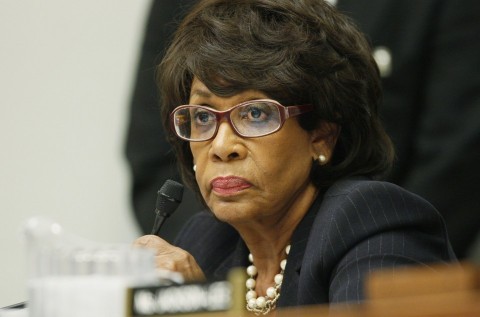 During the rally, of course, the specific impeachable offense wasn't mentioned. Critics say the omission was intentional, because there is no impeachable offense.
That didn't stop Waters, however.
She led the liberal mob in an angry chant, "Impeach 45!"
"I don't respect this president," Waters said to the cheering crowd at the Washington Tax Day March on Sunday. "I don't trust this president. He's not working in the best interests of the American people. His motives and his actions are contemptible and I will fight every day until he is impeached!"
Sponsored: Urgent news for Christian Americans…
Conservatives were quick to jump to Trump's defense, dismissing Waters' plan as outrageous and unrealistic. And critics have pointed out that her divisive rhetoric was dangerous.
But to liberal voters, Waters' nasty political theater is working like a charm.
At rallies and violent anti-Trump protests around the country, vendors have begun selling her picture on buttons and t-shirts.
There's even talk that Waters, who is a close political ally to the Clinton family, will run for president in 2020.
Sponsored: Congress Approves $42.4 B "Cash Rebate" to 119 Million Americans
The liberal media has begun showering Waters with serious praise was well. CNN bestowed an adoring nickname on Waters – "Auntie Maxine"– and other mainstream media outlets have since jumped on the bandwagon.
For example, CNN wrote an article Tuesday titled, "Maxine Waters is having a moment."
Salon's headline: "WATCH: 5 reasons Maxine Waters should be our next president."
Raw Story jumped into the fray as well in an article titled, "Rep. Maxine Waters continues Trump assault."
Not all is well for Waters, however.
Sponsored: Hillary's Hostile Takeover Underway
With her infamy has come increased attention to her embarrassing admissions.
For example, conservatives on social media quickly discovered that Water has admitted the Obamacare tax hikes (which she voted for) have placed an unfair burden on the average American —
This video should go viral. Maxine Waters admits hard working Americans are being forced to "pay taxes they cannot afford." @DRUDGE_REPORT https://t.co/h9JqqPTmFr

— Rich Weinstein (@phillyrich1) April 18, 2017
There's also an embarrassing clip of the California liberal advocating for Sharia Law and defending the Muslim Brotherhood —
Maxine Waters Stood Before The Muslim Brotherhood & Openly DEFENDED & Advocated For Sharia Law in America
One Word: DEMENTED! pic.twitter.com/uxQjqgik7v

— Pamela Moore (@Pamela_Moore13) April 13, 2017
Ouch.
— The Horn editorial team