Former Senate Sergeant-at-Arms Michael Stenger was serving as the Senate's highest-ranked federal cop during the Jan. 6 riot last year. He resigned a day later, and he was reported dead Monday, on the eve of a surprise hearing from the House Jan. 6 Committee.
The state's medical examiner declined to investigate Stenger's death due to a lack of suspicion, a state spokesperson told NBC News on Tuesday.
Stenger was 71, and he had been suffering from cancer, according to a report by Fox News Channel.
Important CBD News [sponsored]
Stenger's death was first reported by Politico on Monday afternoon. Fox News confirmed the news three hours later. The cable network added context about Stenger's medical history, and it obtained a statement from the current sergeant at arms.
Take a look —
Former Senate Sergeant-at-Arms Michael Stenger died this morning.

He joined the SAA team in 2011 after a career with the Secret Service and was appointed SAA in 2018.

— K Tully-McManus (@ktullymcmanus) June 27, 2022
9) Fox is told that Stenger had been suffering from cancer.

— Chad Pergram (@ChadPergram) June 28, 2022
Stenger began his career as a captain of the Marine Corps. In the 1970s, he enrolled in the Secret Service, and he stayed there for 35 years.
He joined the office of the sergeant at arms in 2011. Before long, he received Senate Republican Leader Mitch McConnell's nomination to serve as head sergeant, and he won confirmation by unanimous consent.
Sponsored: THIS tongue technique = PERFECT sleep
McConnell successfully requested Stenger's resignation after the Capitol riot, according to a Jan. 7 statement from the Senate leader's office.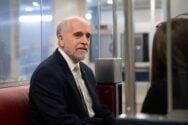 "The ultimate blame for yesterday lies with the unhinged criminals who broke down doors, trampled our nation's flag, fought with law enforcement and tried to disrupt our democracy and with those who incited them," McConnell said in January 2021, according to the NY Post. "But this fact does not and will not preclude our addressing the shocking failures in the Capitol's security posture and protocols."
A bipartisan report by the Senate has linked the Capitol riot to seven deaths, including the deaths of three law enforcement officials.
The Democrat-controlled House Jan. 6 Committee has scheduled another hearing for Tuesday. Committee Chair Rep. Bennie Johnson, D-Miss., attributed to scheduling change to a trickle of new evidence, according to the Associated Press.
The House panel has not explained why it abruptly scheduled the 1 p.m. hearing as lawmakers are away from Washington on a two-week recess. The committee had said last week that there would be no more hearings until July.
The House committee has no counterpart in the Senate, but Stenger testified about the incident in front of the Senate last year.
The Horn editorial team and the Associated Press contributed to this article.