Democrats are taking their "grassroots" fundraising methods to extreme measures.
And they're barely trying to hide their true motivation — grab stacks of cash for their re-election campaigns.
Have you seen this video yet? [Sponsored]
Rep. Cheri Bustos, D-Ill. is only the latest Democrat to display some of the very controversial methods to get fundraising dollars.
According to a Washington Free Beacon report, the former Democratic Congressional Campaign Committee chair Bustos invited donors to give some money to help save the United States Postal Service.
A fair cause?
In reality, the cash went straight to her campaign's purse. Free Beacon only had to look at the fine print in a fundraising email.
"We need EVERYONE reading this email to do their part to help us raise $3,420 TODAY and save USPS," Bustos wrote in the fundraising email. "Please chip in $5 or whatever you can afford right now."
Discover the 3 foods that contain powerful blood pressure-improving nutrients [Sponsored]
According to Free Beacon, the links in the email just went straight to Bustos' fundraising page.
You can see a screen capture of Bustos' fundraising page below: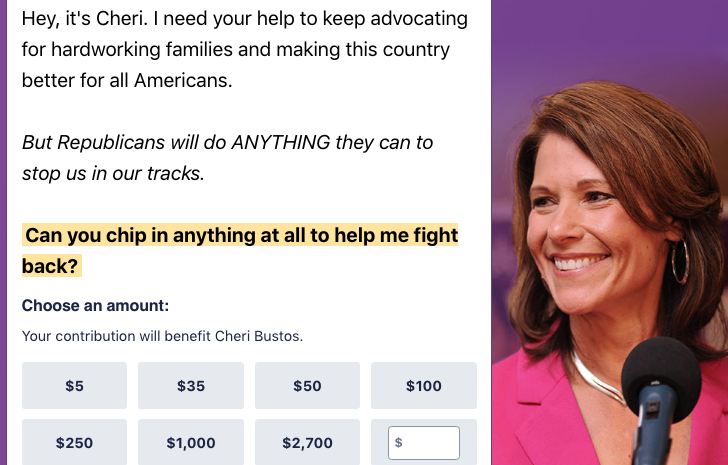 As you can see, the tune very quickly changes.
"I need your help to keep advocating for hardworking families and making this country better for all Americans," her fundraising page reads.
Urgent Alzheimer's Information [Sponsored]
To understand her controversial fundraising methods, it's important to know that in the past Bustos has had an incredibly difficult time generating money from her donors — particularly from those in her district.
An close look at her contributions revealed some disturbing numbers.
Hardly any of her contributions even come from anyone in the entire state of Illinois, let alone her district!
It seems that Bustos' herself needs saving… from her voters.
The Horn editorial team