Sen. Raphael Warnock, D-Ga., entered the political spotlight after an upset win that helped give Democrats the edge  in Congress.
But he's not long into the job and he's already making headlines for all the wrong reasons.
Sponsored: The #1 mistake most doctors make (regarding your blood pressure)
His latest incident was one to forget, and as a result he was accused of "heresy" for his Easter holiday message.
And Warnock tried to make it seem as though it never happened.
Literally.
It all started when Warnock — a former reverend at the famous Ebenezer Baptist Church — posted to Twitter where Sunday morning he wrote:
"The meaning of Easter is more transcendent than the resurrection of Jesus Christ. Whether you are Christian or not, through a commitment to helping others we are able to save ourselves."
Sponsored: Scientists Uncover Enzyme For Rewinding Your Age
The backlash was swift and harsh among critics.
The post itself was taken down from Warnock's Twitter account, but it was too late… media news sites had already picked up on the message.
Courtesy of Mediaite: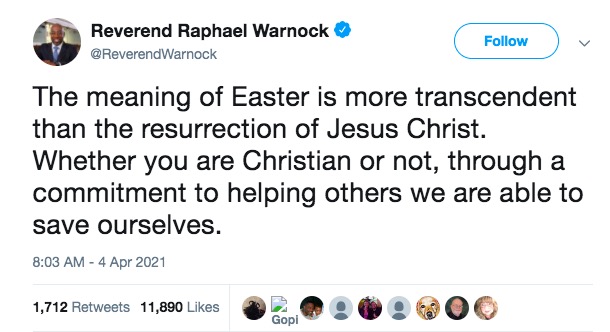 He's being accused of politicizing the Easter holiday.
Samuel Williams, a disabled veteran, was baffled by the holiday tweet…
The one food you should NEVER put on your dinner plate [Sponsored]
"What kind of Reverend would say something like this," he wrote. "Jesus Christ died and then rose again to take the sins of the world away. You are poisoning the minds of Christians for political purposes."
Even a former employee for the liberal ESPN called Warnock out for the now-deleted tweet.
"With all due respect, this is literally the opposite of what the Gospel says," wrote Jason Romano. "Ephesians 2 states that clearly. Faith alone, Christ alone."
The Horn editorial team