One big mess is piling up after another for Virginia Democrats, and it has left conservatives with only two words for their political rivals: Remember Kavanaugh?
Virginia's Lieutenant Gov. Justin Fairfax, Democrat, has been accused of sexually assaulting Stanford fellow Dr. Vanessa Tyson in 2004 at the Democratic National Convention. And that's just the beginning.
In the Commonwealth, Fairfax is just the latest in three major scandals for Democrats — and it has their party leaders stunned into silence.
Sponsored: Hillary Receives Devastating News
Since Fairfax has been accused, Democrats have been quick to take on the same advice they doled out to Republicans and ask reporters to wait for all the facts before rushing to judgement.
And NO liberal lawmaker wants to talk about how they treated Justice Brett Kavanaugh.
For example, Bernie Sanders can be seen running away from questions about Fairfax here —
Sen. Bernie Sanders will not say if he believes VA Lt. Governor Justin Fairfax's accuser… pic.twitter.com/zU69QSzXGD

— Henry Rodgers (@henryrodgersdc) February 5, 2019
The rest of the Democrats deflected brilliantly when asked about the Lt. Gov.
"I have no idea who Justin Fairfax is," Diane Feinstein told The Daily Caller. "I don't want to get into that."
Connecticut Democratic Sen. Chris Murphy said, "You know I sort of left most of this to Tim and Mark [two Virginia senators] who have been following that."
BREAKING: Whistleblower Drops BOMBSHELL During Shutdown [sponsored]
What happened to "believe all women?"
That credo has gone flat since one of the Democrats are now accused.
Dr. Tyson claims she reached out to Washington Post to tell her story, but it was mysteriously nixed. Shortly after Gov. Northam's scandal became national news, a friend of Dr. Tyson contacted Big League Politics with the tip on Fairfax.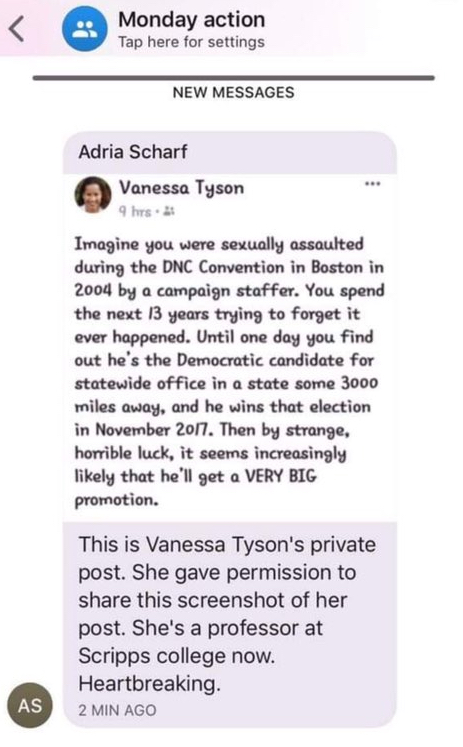 And that isn't even the whole of the disaster.
Tuesday, the state's Attorney General Mark Herring took to Twitter to admit that he wore blackface in the 1980s at a Halloween party.
It seems to be a growing theme among Democrats?
Harvard Doctor: "There is no maximum human lifespan" [sponsored]
See his statement below, in which he explains he dressed like his favorite rapper —
Please see my statement below. pic.twitter.com/FBDcgxHOq9

— Mark Herring (@MarkHerringVA) February 6, 2019
Amid Gov. Ralph Northam's, Democrat, scandal for ALSO wearing blackface, Herring had just called on the embattled governor to resign!
Oh, the irony.
So what does this mean for Republicans?
A potential path to the Commonwealth's state house.
Sponsored: Have you taken this in the past 20 years?
If Northam were to resign,  Fairfax would be next in charge to govern Virginia. But if the allegations against Fairfax are true and he's also removed, then Herring would be the governor of Virginia.
Herring is, of course, facing pressure to resign.
The next in line to take the office?
The Speaker of the State House of Delegates, Republican Kirk Cox
—The Horn editorial team