Porn actress Stormy Daniels was arrested at an Ohio strip club on Wednesday and is accused of inappropriate groping of some of the patrons' breasts and allowing others to touch hers, a violation of state law.
Daniels, whose legal name is Stephanie Clifford, has been released on bond. The charging documents allege she performed the same act with several officers who approached the stage and forced one officer's head into her bare chest and fondled another officers breasts.
Sponsored: Could this book hold God's "final warning" to all Americans?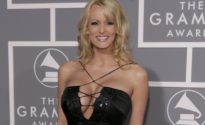 Daniels is set to be arraigned Friday on three misdemeanor counts of touching a patron at a "sexually oriented" business in violation of an Ohio strip club law.
Daniels's lawyer, Michael Avenatti, says she will plead not guilty to all counts. Some patrons touched her in a "non-sexual" way, her lawyer, Michael Avenatti, told The Associated Press.
An Ohio law known as the Community Defense Act prohibits anyone who isn't a family member to touch a nude or semi-nude dancer. Daniels is expected to face three misdemeanor charges. She was released on bail before 6 a.m. Thursday.
"Police officers at the club said that while dancing topless, Ms. Clifford pressed patrons' faces into her chest and fondled the breasts of some women in the audience, according to an affidavit filed by the police," The New York Times reported. "She performed similar acts on three officers, and grabbed one by the buttocks, the affidavit said."
Sponsored: Concerned about your memory? Try THIS (works in 1 hour)
"This was a complete set up," Avenatti said. "It's absurd that law enforcement resources are being spent to conduct a sting operation related to customers touching performers in a strip club in a non-sexual manner."
He also posted Daniels' statement on Twitter early Thursday saying she apologized to her fans in Columbus, but she would not perform her previously scheduled Thursday night show.
A Columbus police spokeswoman didn't immediately respond to a message seeking comment.
Daniels has been in headlines for the past year, using an unverified story that she had relationsx with President Donald Trump in 2006. Trump has denied the accusation.
Do you have this same transaction hidden in your bank statement? [sponsored]
She's suing Trump and his former longtime personal attorney, Michael Cohen, and seeking to invalidate a nondisclosure agreement that she signed days before the 2016 presidential election.
The Associated Press contributed to this article