How out-of-control has America's coddling of our students become? In Maryland, if you're a school employee and correct a young persons grammar, you'll lose your job.
That's what happened in Frederick Public school system after the school's social media employee playfully mixed it up with a student on Twitter over the student's poor spelling.
For correcting the student, Katie Nash says she was fired.
Nash told The Frederick News-Post that she was let go on Friday afternoon from her $44,000-a-year job. A Frederick County Public Schools spokesman confirmed that Nash had been let go, without providing details.
Nash ran the school district's Twitter account. On Jan. 5, a student tweeted to the account, asking that schools be closed "tammarow."
Nash responded from the district's account, "But then how would you learn how to spell 'tomorrow?'"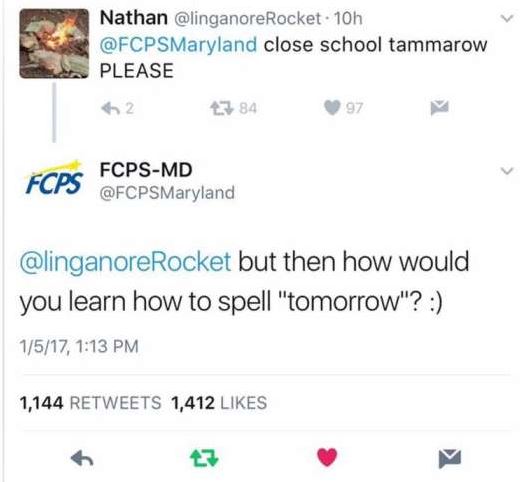 I guess that's too much for special snowflakes?
"When we have snow the school system gets lots to messaging on social media saying 'please close school' so to me this was just another part of my job and I was replying quickly," said the mother of two.
She says she was ordered not to tweet anymore after the interaction.
"I know my intentions. I have been overwhelmed by the community and the support and their belief in me that my intentions were good and I was really interested in engaging with our students," Nash told WUSA9.
Katie Nash was the Web Services Coordinator for Frederick County Public Schools.
The Associated Press contributed to this article