Former congressman Robert Francis O'Rourke announced that he would not be running for the seat of Sen. John Corryn, R-T.X., in 2020.

Which means Francis, better known as Beto O'Rourke, is ready to put his bid in to jump into Democratic presidential primary.

Sponsored: The End of Atheism?
Rumors from insiders say O'Rourke has the pieces in place. His pending announcement will shake-up the entire presidential campaign.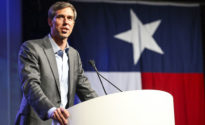 The native Texan somehow became a darling of the liberal media in LOSING to Sen. Ted Cruz, R-T.X. in the 2018 midterms. It seems that measures of success are a little different on the left.
And how did he deal with adversity?
Following the loss he went on a bizarre soul-searching road trip, written diary-style… like a scene straight out of some movie he thinks might be one-day made about him.
He toured The Oprah Winfrey Show.
He took some photos that captured the hearts of liberals across social media, including one of him at the dentist. How personable he is!
O'Rourke even questioned the validity of the Constitution.
BREAKING: Is Big Pharma turning this popular memory-booster into a "smart drug"? [sponsored]
"Does this still work?" O'Rourke asked rhetorically.. "Can an empire like ours with military presence in over 170 countries around the globe, with trading relationships … and security agreements in every continent, can it still be managed by the same principles that were set down 230-plus years ago?"
Now all of a sudden, a senate loser thinks he's ready to lead a nation?
The courageous underdog from the radical-left had a good run, but his own state preferred Cruz. At the end of the day, the votes proved just that.
O'Rourke may want to rethink another campaign strategy if he's serious about contending for the presidency.
Sponsored: Why I Will Never Drink Alkaline Water Again
This is the same former congressman who hosted an anti-border rally in his hometown of El Paso, T.X. at the same time as Trump, only to have a little more than a measly handful show up.
Just nextdoor, Trump's rally for border security against illegal immigrants sold out and had a spill-over crowd of approximately 15,000.

Beto will have a hard enough time with his own party, let alone President Trump. He doesn't look anything like the socialist Democratic face of his party.
"I'm a capitalist. I don't see how we're able to meet any of the fundamental challenges that we have as a country without, in part, harnessing the power of the market," O'Rourke said.

True, yes.
But let's see what his fellow, more popular socialist Democrats have to say about that once they stuff into a crowded 2020 debate stage.
The Horn editorial team