CNN's Chris Cuomo is one of the network's most recognizable faces.
But Tuesday evening, it was news about his wife that scored all the headlines.
Sponsored: The #1 mistake most doctors make (regarding your blood pressure)
Cristina Cuomo Greeven's name was allegedly found in pedophile Jeffrey Epstein's "little black book," of associates and other contacts potentially connected to his international sex trafficking ring.
Her name is part of a newly released haul of Epstein contacts published by Business Insider.
Insider says it has the brand new list of 221 contacts with whom Epstein was friendly enough to list in his prized 1997 address book.
According to the specifics of the report, Greeven Cuomo's name can be found under a misspelling of her birth name — Cristina Greeven, spelled as "Christina."
You can view a screenshot of her name below, captured by Yahoo:
Sponsored: Famous MD reveals: "Memory Loss Doesn't Have To Be Permanent!"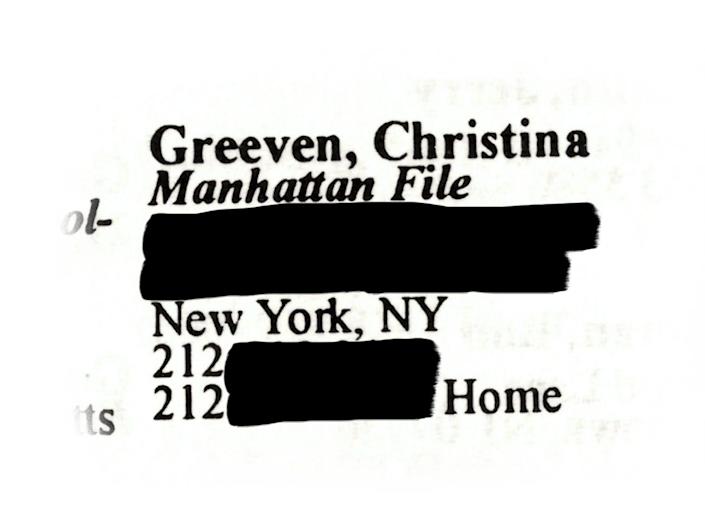 "The book lists Greeven Cuomo under a minor misspelling of her birth name, Cristina Greeven," the report notes.
Sponsored: Taste THIS brownie for more energy
"Her entry refers to Manhattan File, a New York society magazine she published after her father purchased it in 1994. The same entry includes an office address in the New York City neighborhood of SoHo, an office phone number, and a home phone number. In the '90s, Greeven Cuomo was known for hanging out with socialites like Alex von Furstenberg and the former CNN producer Pamela Gross."
Although initial reports suggest that it's unclear why exactly Greeven Cuomo appears in the book, it seems that she and Epstein may have known each other during that period in the '90s.
Greeven Cuomo and the CNN star Chris Cuomo married in 2001.
Insider claims it attempted to reach out to contact The Purist, a wellness website she founded in 2017.
Sponsored: [STUDY] They lost 23 POUNDS with the help of THIS
According to them, Chris Cuomo declined to "make his spouse available."
Yikes.
The Horn editorial team