After controversial statements from Rep. Karen Bass, D-Calif., surfaced — she praised former Cuban dictator Fidel Castro in 2016 and called his death a "great loss" — Democratic presidential candidate Joe Biden's running mate search has narrowed.
One liberal media powerhouse says there's only one choice left — and it defies conventional wisdom.
[Sponsored] #1 "Fruit Trick" for Perfect Blood Pressure
The New York Times' Frank Bruni says Sen. Tammy Duckworth, D-I.L., is the "obvious" best pick for Biden.

"More than any of the many extraordinary women on Biden's list of potential vice-presidential nominees, she's the anti-Trump, the antidote to the ugliness he revels in and the cynicism he stokes," Bruni claimed. "Americans can feel good — no, wonderful — about voting for a ticket with Duckworth on it. And we're beyond hungry for that. We're starving."
After losing both legs when the helicopter she was piloting was shot down in Iraq, Duckworth served two terms in the House of Representatives before she won the 2016 Illinois senate seat, defeating incumbent Republican Sen. Mark Kirk.
Picking Duckworth would defy conventional wisdom.
But there has been increasing pressure among black Democratic leaders like Rep. Jim Clyburn, D-S.C., for Biden to nominate a woman of color.
Sponsored: "Forbidden" book now available (claim yours now)
Las Vegas odds also put Duckworth as a longshot, well behind unconventional candidate picks like former first lady Michelle Obama —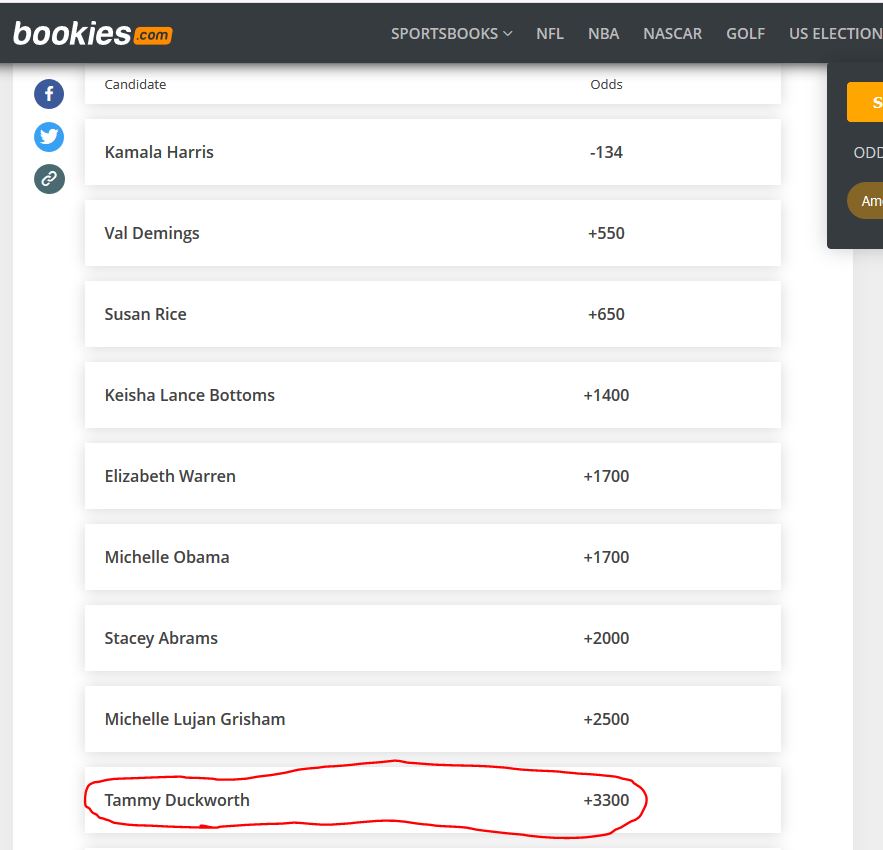 The Biden vice presidential search has been a roller coaster for months.
Sen. Elizabeth Warren, D-Mass., emerged as an early favorite before social unrest catapulted Sen. Kamala Harris, D-Calif., to the front. Since then, behind-the-scenes horse-trading and political bargaining have seen a number of contenders rise — and others fall.
President Donald Trump's vice presidential search has been much less chaotic. Early in his re-election campaign, Trump gave the nod to Vice President Mike Pence again.
Sponsored: WANTED: Men and women over 65 to try this "senior smart pill"
What are your thoughts?
Who should Biden pick as his running mate?
Vote here —
Who should Joe Biden pick as his running mate?
Vote here --