Rep. Alexandria Ocasio-Cortez, D-N.Y., has said some inflammatory things since being elected in 2018.
Sponsored: Over 55? Here's how to IMPROVE lung health
But when a reporter asked if she was sorry for saying that Sen. Ted Cruz, R-T.X., tried to have her murdered last week, she didn't want to answer.
In fact, she denied ever having said so – and then fled from the reporter.
"Will you apologize to Ted Cruz? You tweeted that he… he tried to have you murdered at the Capitol riot," the reporter asked Ocasio-Cortez.
"Yeah, so um… that's not the quote and, um, I will not apologize for what I said," Ocasio-Cortez responded.
She then immediately hustled away from the reports, so quickly she almost slipped on a snow-covered sidewalk.
You can see the viral moment here –
Sponsored: This Food Helps Improve Your Blood Pressure
.@AOC to @tedcruz: "…you almost had me murdered 3 weeks ago so you can sit this one out."@AOC when asked about her exact quote: "Yeah, so that's not the quote and I will not apologize for what I said." pic.twitter.com/TiT6MwQb4G

— The First (@TheFirstonTV) February 8, 2021
Unfortunately for her, we have a screen shot of the exact quote where she accused Cruz of almost having her murdered and said he can "sit this one out."
"90-Year-Old Mitochondria Becoming 30-Years Old" [sponsored]
Take a look for yourself.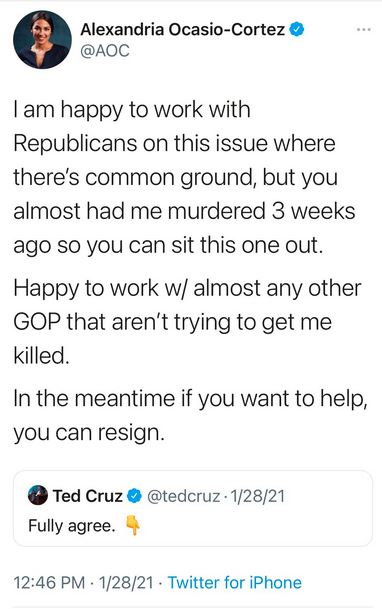 Oops.
The Horn editorial team