"On the Holmes Front with Frank Holmes"
Readers in Ohio were shocked on Monday morning when they picked up their morning paper and saw a picture of Donald Trump – with a Hitler moustache.
The Wapakoneta Daily News in Wapakoneta, Ohio, ran the Photoshopped image right on the front page on October 16.
Sponsored: PROOF Hillary belongs in jail (unbelievable!)
If critics needed more proof that the mainstream media was incredibly unfair, look no further than this.
Right above the day's weather, a Tribune News Service picture of the commander-in-chief showed the president giving a speech, with a tiny black square underneath his nose.
The photo of our president morphed into Der Fuehrer ran alongside a news story by local reporter Dave Vorhees on how local residents thought President Trump had handled natural disaster relief. (Most approved.)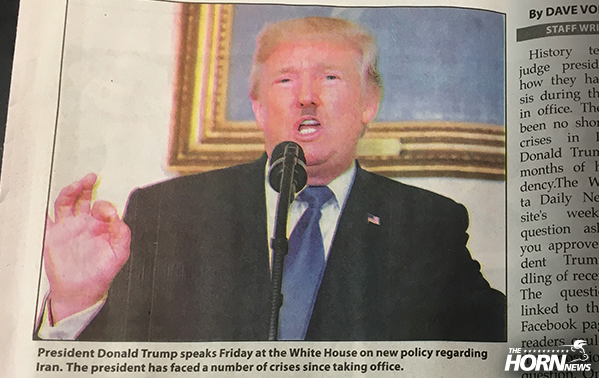 That outraged residents of Wapakoneta – a city of 9,816 people about an hour south of Toledo.
Sponsored: Did a 1934 Prophecy Predict These Earth Shattering Events?
Reader Gary Bryan wrote on the newspaper's Facebook page that, whether the editorial board likes it or not, Donald Trump "is, at this time, the president of the United States, and altering a picture to make him look like Hitler is unacceptable. Shame on you!"
"Imagine the uproar if somebody did that to the last to the last President," wrote Tim and Kathy Doty. "It should cost somebody their job, if it was intentional."
The paper posted a statement about the picture online Monday – and the half-hearted apology was almost as offensive as the photo.
The staff said the newspaper "regrets" the "sloppy" editing, which gave the president "a mustache."
Sponsored: When Olympic athletes have stiff joints, they do THIS…
"While we edit photos on a daily basis, this particular photo was edited in a sloppy manner to make it appear the president had a mustache," wrote the newspaper's publisher, Deb Zwez. "The Wapakoneta Daily News would never intentionally insult our president in any manner."
The readers didn't buy it.
"How can anyone trust anything printed by your paper, if you're not going to tell the truth about the manner of this mistake?" Jeremy Stewart wrote on their Facebook page.
"That does not look like an accident," wrote reader David Archer. "It's sad what the media has become."
HAUNTING: This video from Hillary's past won't go away… [sponsored]
Zwez ran a front page column on Tuesday – which, incredibly, still downplayed the photo.
"There's no way to sugar coat it and there's no way we're going to come out of this without our reputation damaged," she began.
So far, so good.
But she repeated that the president "appears to be sporting a mustache"…not that he had been made to look like one of the greatest monsters in human history.
"The manipulation belongs to us," she admitted. But she wrote that during the editing process, a "blob" was somehow "dropped onto the document."
Is this how Ronald Reagan cured his cancer? [Sponsored]
Oops.
"At this writing, I haven't been able to determine at what point in the process this manipulation occurred," she wrote.
So, no one is going to pay a price for "showing disrespect" to Trump.
"In a climate where 'fake news and lying media' seem to resonate, this kind of 'prank' does nothing to engender your confidence that we are doing our best to provide news in a responsible, fair and unbiased manner," she wrote.
No, it does not – and critics say neither does the newspaper's half-hearted apology.
Sponsored: You'll be amazed in just 20 seconds
This wasn't a "prank" created by dropping a "blob" on a picture.
Someone wanted to compare Donald Trump to Adolf Hitler, one of the most twisted mass murderers in human history. And they used the newspaper's front page to make sure they rammed it down the throats of their small town, conservative audience.
Make no mistake about it – Wapakoneta is the American heartland. It is a Norman Rockwell painting come to life.
It's best known for being the hometown of Neil Armstrong, the first man to walk on the moon – and, reportedly, a Republican.
Trump crushed Hillary Clinton with voters in the area – by more than three-to-one! Trump won 78 percent of the vote in Auglaize County, Ohio, where Wapakoneta is located.
Sponsored: Strange "Second Bible" issues urgent warning for all Americans
There's no telling how they responded to the second "apology," since the paper didn't post it on social media.
Since the election, unhinged leftists have been spewing their hatred at Trump and the 63 million Americans who voted for him. The commander-in-chief has been called a Nazi, and his followers have been branded "literally Hitler."
Americans don't expect much of MSNBC, late-night comics, or the so-called mainstream media – especially Americans in small, God-fearing towns like Wapakoneta.
But to see such petty, Trump-hating bias taken down to the local level in an overwhelmingly "red" town – where people take faith, family, and country seriously – is way out of line.
Readers deserve a real apology that owns up to the facts: Somebody at this small town paper seems to think 78 percent of his, or her, readers are goose-stepping Brown shirts… that they're totalitarians ready to destroy the country.
CNN On Verge Of Total Shutdown [sponsored]
And that person should lose their job over this. I'm sure The Nation or Huffington Post would welcome that person with open arms.
Most people in Wapakoneta would rather put a boot in another part of his body.
— Frank Holmes is a reporter for The Horn News. He is a veteran journalist and an outspoken conservative that talks about the news that was in his weekly article, "On The Holmes Front."