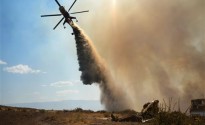 Beautiful but tragic photos of the out-of-control fires in the West are taking social media by storm. Washington firefighter Stephanie Preheim is an example of how new technology is giving civilians a first-hand glimpse into the dangers. Preheim had only just arrived at the storage facility she was assigned to protect from a massive wildfire near the tourist town of Chelan, Washington, when the winds shifted, pushing the blaze back her way.
Told to stand down, the suddenly sidelined Preheim did what any idled 19-year-old would do — she got out her cellphone, snapped a photo of the smoke-filled scene and posted it on Instagram.
"People always ask 'How was it?' and it's impossible to describe what it's like fighting a fire," said Preheim, a volunteer with the Cashmere Fire Department. "If you have a quick second, why not snap a quick photo and be able to share it with people you love and let them know what you're doing?"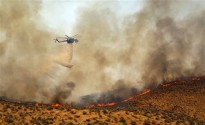 Preheim, and other firefighters like her, are capturing some of the most stunning images of wildfires in the West this season.
Hotshot Ian Schlake, who was also battling the fire near Chelan, said in an email from the fire lines that firefighters are like everyone else looking to stay connected in an increasingly digital world.
"I'd like to show people at home the scale of fire, its power and its spectacle. It's not something we get back home in St. Louis, Missouri," wrote Schlake, 31.
Utah-based firefighter Eli Peterson's daredevil Instagram account includes photos of him leaping from a bridge into the water below, rock climbing and camping along with images of rollicking flames.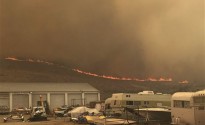 "(Fire is) a beautiful, alive thing that makes beautiful photos," said Peterson, 19.
But, Peterson, like Schlake, said he won't sacrifice safety for likes online.
The problem is especially heightened in California as the parched state makes for an explosive fire landscape.
Casey Judd, president of the Federal Wildland Fire Service Association, a firefighters' union, said firefighters taking personal photos is not something he's worried about.
"Pictures have been taken out on the fire lines forever and it's a learning tool, too," he said.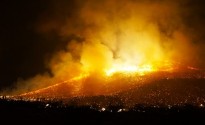 The photos can indeed be used for training and to document extreme fire behavior, like fire tornadoes, points out Jennifer Jones, a spokeswoman with the U.S. Forest Service's office of fire management.
This weekend ushered in calmer weather across the West, helping firefighters who worked to contain the flames fed by drought conditions and whipped up by wind and heat.
Firefighters across the Pacific Northwest are working to protect property from fast-moving wildfires that destroyed multiple homes in eastern Oregon, cut off power in Washington and forced thousands of evacuations throughout the region.
The Associated Press contributed to this article