Sunday the world's best musicians dazzled the red carpet for the 61st annual Grammy Awards — and two stars in particular raised eyebrows
Both singers Joy Villa and Ricky Rebel STUNNED the awards ceremony with their support for President Donald Trump. 
They wore the support on their sleeves. Literally.
No one quite expected this…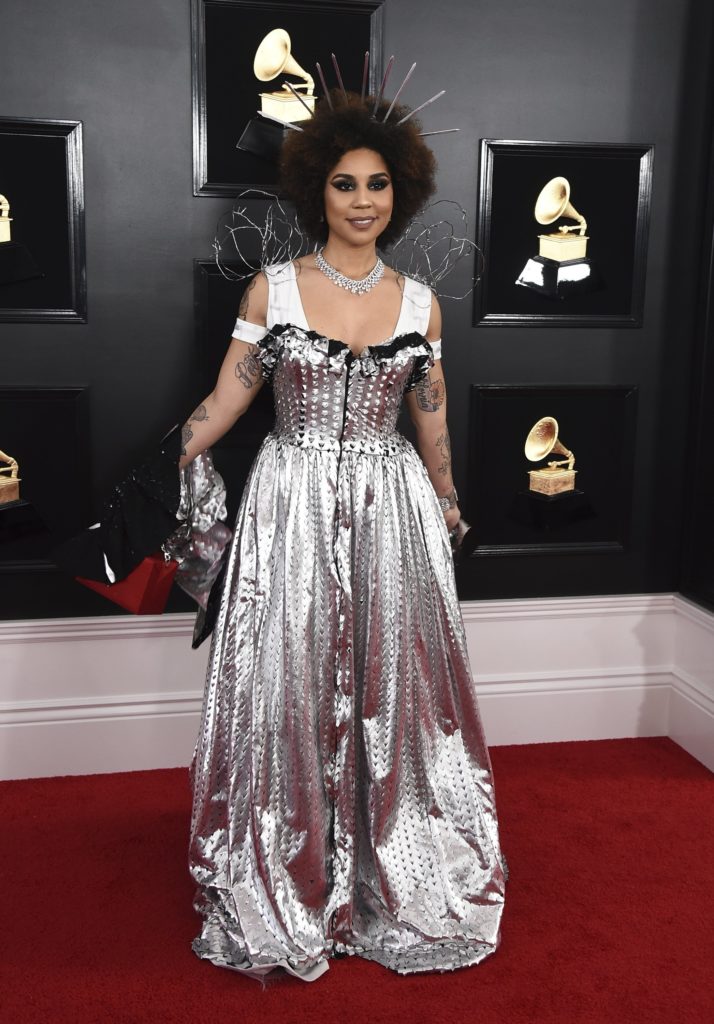 Joy Villa arrived to the event wearing a top and skirt seemingly made to look like wall fencing, complete with barbed wire on her shoulders.
Once inside, she sported a white dress outlined in bricks!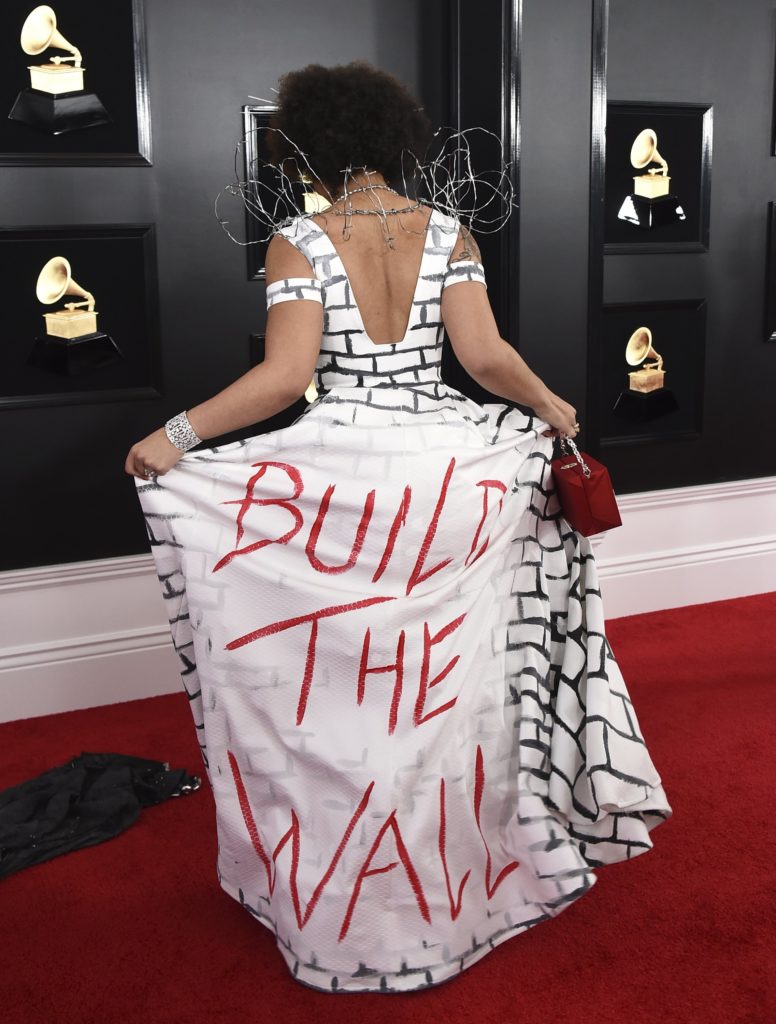 And when she posed for the camera, she made sure to show the cameras her purse, which donned the phrase "Make America Great Again."
Sponsored: Why I Will Never Drink Alkaline Water Again
But that wasn't all.

When Villa turned around she showed the paparazzi the backside of her dress: it read "BUILD THAT WALL."
"I'm still a Trump supporter," she said, "and supporting the president and what he's doing."
Rickey Rebel went for more of an Uncle Sam approach with her support for the commander-in-chief.
Ricky Rebel represented America top to bottom. He wore a red, white and blue jacket.
"Trump," appeared on the back of it.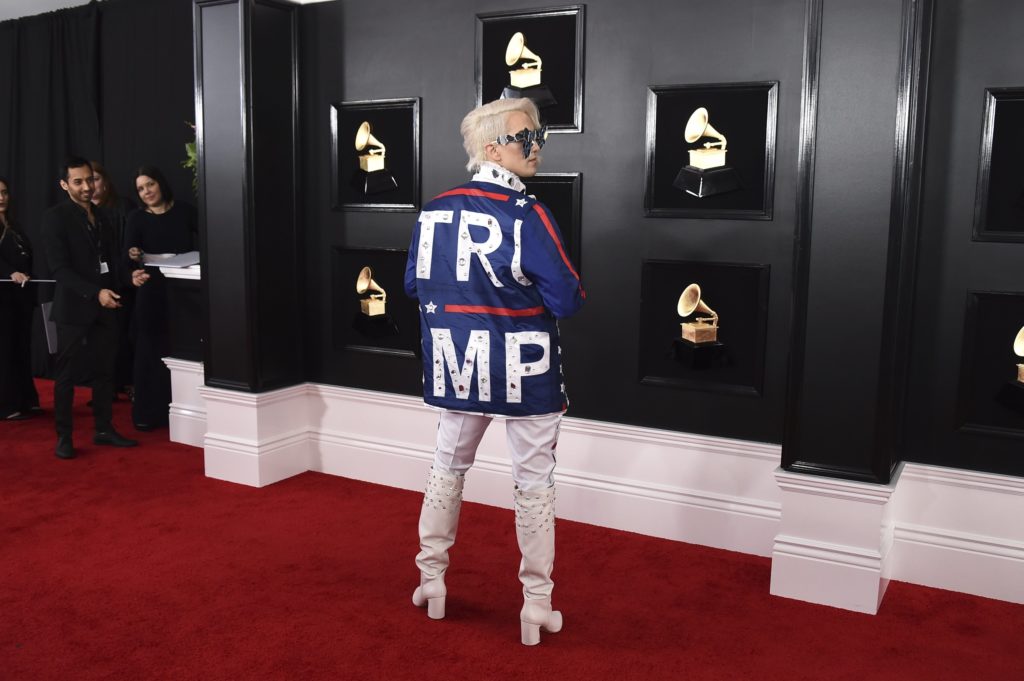 Scientists: Salt works better than Metformin for diabetes [sponsored]
"Keep America Great" on the front.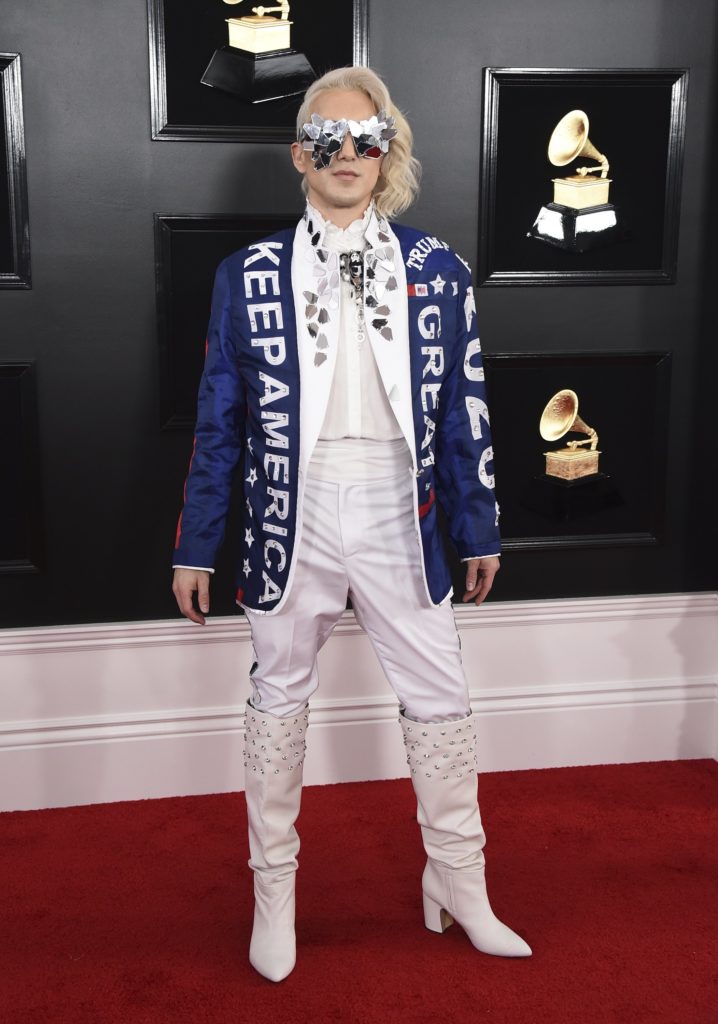 Other looks from the awards below:
Cardi B had a spot of trouble walking in a sculpted look that evoked a mermaid in the half shell, pearls included.
Jennifer Lopez donned a huge white bejeweled hat and Lady Gaga chose a silver strapless sequin gown with a high slit and side ruffle, thanks to Celine.
Katy Perry, meanwhile, arrived in a pink Balmain confection that prompted comparisons to a cake topper.
As for the guys, some went wild.
Sponsored: DIY cancer cure dissolves tumors in as little as 48 HOURS
Post Malone was in a light pink embellished jacket and matching pants. Kyle Tree of the EDM duo Grey was inadvertently ready for the weather in a rain slicker that was, yes, the color gray, as was his hair and that of music partner Michael Trewartha.
Never shy fashion-wise, Janelle Monae also wore a wide-brim hat, pairing it with a short dress that had high pointed shoulders, courtesy of Jean Paul Gaultier.
Top nominee Kacey Musgraves wore an ethereal belted gown in a nude hue with a daring fan-like bodice, by Valentino, while Camila Cabello appeared cozy in a long-sleeve sparkler of a bright pink gown with a high neck and open back, done by Armani Prive.
Dolly Parton wore a short red dress with a ruffle lapel and a chunky jewel centerpiece. Dua Lipa won best necklace of the night, a huge diamond piece in a circular design.
Fantastic Negrito, the Oakland, California-born blues artist, represented in a red suit with large, colorful swatches for pockets. His silver necklace of two fish used to be a belt buckle, said the upcycling enthusiast.
Sponsored: Is S.P.A.R. the latest anti-aging scam?
Members of Weezer, on the other hand, kept it relaxed in scoop T-shirts under jackets that included mauve and baby blue.
Ben Harper went full bedazzle in a jacket showing off yellow sequins worn with a broad-brim hat.
Shawn Mendes went for a deep blue Paul Smith jacket with wide black lapels and open collar underneath.
"I was so nervous to dress for the Grammys," he told the AP. "I felt like, how do you be classy and still stand out?"
Purple was an It shade of the evening. Grammy winner H.E.R. sparkled in the collar in a gown made for her by Coach, with sunglasses in the same shade.
"It makes me feel like I'm shinin'. I feel like a star," she said.
Sponsored: [Tabula] Shocking Gray Salt Does What Chemo Can't
The Associated Press contributed to this article.