Trump Derangement Syndrome in the mainstream media is at a whole new level — and after the gruesome mass shootings over the weekend, one MSNBC host couldn't hold back any longer.
"Morning Joe" co-star Mika Brzezinski launched into a conspiracy theory about President Donald Trump and white supremacy that was so unhinged, some critics say she's having a mental break from reality. She claimed Trump wants domestic terror attacks against Americans.
Brzezinski wasn't alone, either. Multiple guests on MSNBC and NBC News on Tuesday floated their own racist conspiracy theories.
Video from Hillary's past still haunts her to this day [Sponsored]
One guest claimed Trump wanted to "exterminate" people of color.
Another claimed Trump's ordering of the American flag to half-mast for four days "as a mark of solemn respect" was secretly a nod to Adolf Hitler.
In a speech Monday, Trump was joined by Vice President Mike Pence in the White House. The two condemned hatred and racism in the strongest way possible.
"Our nation is overcome with shock, horror. and sorrow," Trump said in his solemn remarks. "We are outraged and sickened by this monstrous evil."
The president specifically condemned white supremacy, responding to reports that the murderer in El Paso wrote a racist manifesto.
"In one voice, our nation must condemn racism, bigotry, and white supremacy," Trump said. "These sinister ideologies must be defeated. Hatred has no place in America."
Sponsored: Shocking Object Found Inside Maryland Woman
But just look how MSNBC stars and NBC News guests responded to the statement.
"You have to ask the question, Joe, and I'll ask you, isn't it okay to deduce that at this point this is what he wants?" Brzezinski asked fellow co-star Joe Scarborough on Tuesday's "Morning Joe."
"He is inciting hatred, inciting violence, inciting racism if he doesn't unequivocally call it off [his stance on border control] and say, this is wrong and we stand together against this and we are doing this, this and this to help fight hate crimes."
"I mean this is a president who seems to want these things to happen. How else can this be explained?" she asked.
Rather than push back, Scarborough joined in with Brzezinski's conspiracy.
"As you know, he's inciting hatred now and he's been inciting hatred up until yesterday because he sees that as a good political strategy," Scarborough said.
Sponsored: How to restore your memory in 1 hour
Later in the day, MSNBC host Nicolle Wallace was forced to apologize after a guest panel told viewers that Trump had been "talking about exterminating Latinos."
Trump had "declared open season" on Latinos, USA Today writer Raul Reyes falsely claimed. "So, to me, there's very little distinction between his inciting this violence and the fact it's now happening."
"President Obama used the power of the presidency to try to pass comprehensive immigration reform, with the Latino community, Latino leaders, at the table," Wallace responded. "You now have a president, as you said, talking about exterminating Latinos."
She apologized on social media later in the day.
"I misspoke about Trump calling for an extermination of Latinos," Wallace tweeted. "My mistake was unintentional and I'm sorry. Trump's constant assault on people of color and his use of the word 'invasion' to describe the flow of immigrants is intentional and constant."
Later that same day, NBC News contributor Frank Figliuzzi said Trump's decision to fly American flags half-staff could be interpreted as a nod to Adolf Hitler.
BREAKING: Is Big Pharma turning this popular memory-booster into a "smart drug"? [sponsored]
"The president's either getting really good advice and rejecting it, or he's getting really bad advice. We have to understand the adversary and the threat we're dealing with, and if we don't understand how they think we'll never understand how to counter them, so it's the little things and the language and messaging that matters," Figliuzzi said about the Trump administration.
"The president says that we will fly our flags at half-mast until August 8 — that's 8-8. Now I'm not going to imply that he did this deliberately, but I am using it as an example of the ignorance of the adversary that's being demonstrated by the White House," he continued.
"The numbers 8-8 are very significant in the neo-Nazi and the white supremacy movement," Figliuzzi claimed. "Why? Because the letter 'H' is the eighth letter of the alphabet, and to them, the numbers 8-8 stand for 'Heil Hitler."
Just how unhinged has the media become?
Remember that former President Barack Obama — known by illegal immigration advocates as the "Deporter-in-Chief" — regularly condemned the "pouring" of illegal immigrants across the border and said illegals were "disrespecting the rule of law."
Sponsored: DIY cancer cure dissolves tumors in as little as 48 HOURS
In case the media needs a reminder, here's a picture from The Associated Press during an Oct. 2014 protest against Obama's immigration policies —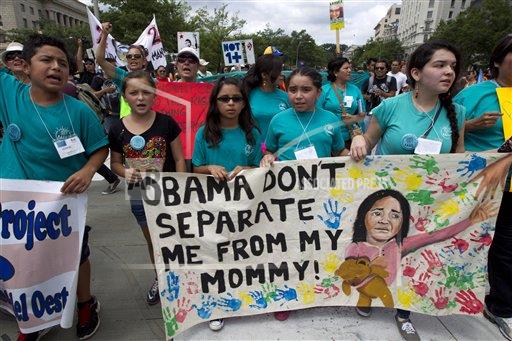 Did the media blame Obama's rhetoric for the six mass shootings that year, including one by a white supremacist?
It's true that the rhetoric in the political sector has gotten heated.
Does MSNBC think that calling the president of the United States a neo-nazi that wants mass murder will help?
The Horn editorial team