First Lady Melania Trump is giving her Japanese counterpart a tour of a Palm Beach mansion.
The first lady took Akie Abe to a Gilded Age mansion on Wednesday. The Whitehall mansion is a few miles from President Donald Trump's Mar-a-Lago resort. Trump is meeting with Japanese Prime Minister Shinzo Abe at Mar-a-Lago this week.
Sponsored: What harms your eyes the most? (it's not what you think)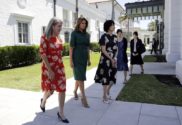 They arrived in a motorcade and were greeted by museum staff. They entered without speaking to reporters.
Oil and railroad magnate Henry Flagler built Whitehall at the turn of the 20th century as a wedding present for his third wife, Mary Lily Kenan Flagler. The 75-room, 100,000-square-foot (9,290-square meter) mansion served as the couple's winter retreat starting in 1902. Henry Flagler died in 1913 after he fell down one of Whitehall's marble stairways.
The Associated Press contributed to this article.