Prince Harry's bride-to-be has made her first public appearance with Queen Elizabeth II.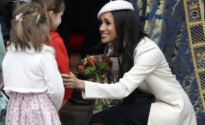 Meghan Markle joined the queen and other senior royals Monday at the Commonwealth Day service at London's Westminster Abbey.
Sponsored: Is this Ronald Reagan's secret cancer cure?
It marked another milestone in Markle's path to joining the British monarch's family. The American actress is set to marry Harry on the grounds of Windsor Castle on May 19.
Harry and Markle were greeted with screams and shouts from some members of the public when they arrived at the venerable abbey.
They were joined by Prince William and his wife, Kate, Prince Charles, and other royals.
The Associated Press contributed to this article.