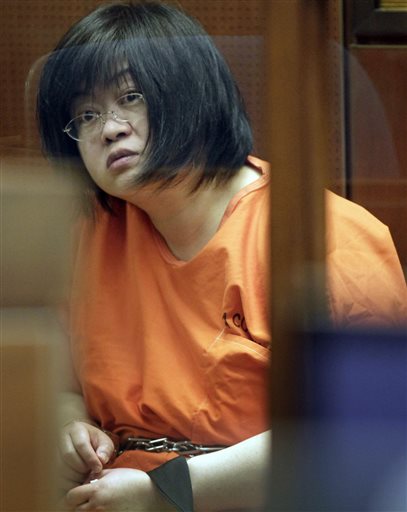 Meet "Doctor Death," Dr. Hsiu-Ying "Lisa" Tseng, the Los Angeles physician prosecutors say is responsible for the death of at least three of her patients.  According to the Associated Press, even after several patients died of overdoses, Tseng kept passing out prescriptions for powerful painkillers in appointments that lasted as little as three minutes, often without physical exams and despite red flags that she could be feeding addictions, a prosecutor told jurors Monday.
Some of those patients were suicidal, others were using the prescriptions to party, and all took well over the recommended dosage.
Tseng, 45, is now on trial for murder, which is a rare charge for a doctor for prescribing drugs. She could face up to life in prison if convicted.
Prosecutor John Niederman told jurors that a coroner notified Tseng of her first patient death by overdose in September 2007, two days after he had gotten prescriptions from her for oxycodone, Xanax, and Soma.
The next patient died six months later. Jurors were shown a picture of his body, lying face-down in his bed.
One patient overdosed in Tseng's own clinic, Niederman said.
"The defendant was repeatedly notified by law enforcement that her patients were dying on her," Niederman told jurors. "The evidence will show that during this period of time, the defendant's practice of prescribing did not change at all."
Niederman said jurors should find Tseng guilty of second-degree murder in the deaths of three of her patients, all young men. He said twelve of Tseng's patients died in all, but only three were the subject of murder charges.
The Drug Enforcement Administration says Tseng wrote more than 27,000 prescriptions over a three-year period starting in January 2007 — an average of 25 a day. She operated a storefront medical clinic with her husband in the Los Angeles suburb of Rowland Heights.
The three murder charges stem from the overdose deaths of patients in 2009, including 21-year-old Joey Rovero, a senior at Arizona State University who grew up in the San Francisco Bay Area suburb of San Ramon.
Rovero's mother, April Rovero, said her son never had any problems with addiction and once walked 2 miles home in the middle of the night after drinking beer with his buddies instead of driving.
"My son was a victim that needs to be represented," April Rovero told The Associated Press. "When this happens to a child or a sibling, my experience is it changes your life irrevocably, forever. It's not something you get over."