The Illinois mad man who shot a top Republican congressman and several other people Wednesday while they practiced baseball outside the nation's capital had a history of violence and several run-ins with the law in recent years.
James T. Hodgkinson, 66, belonged to a Facebook group called "Terminate the Republican Party," and unfortunately turned that call to arms into action Wednesday, shooting several rounds at Republicans practicing for an upcoming baseball game.
Sponsored: Simple 3-word phrase from the Bible unlocks mystery cancer cure?
Hodgkinson, was fatally shot by police during the attack, and details of his past have slowly emerged since.
1. He was a volunteer for Senator Bernie Sanders presidential campaign
Hodgkinson's now removed Facebook page looked like an advertisement for former Democratic nominee Bernie Sanders' presidential campaign. His profile picture featured a quote from Sanders and his cover photo was an image of the Senator.
Sanders reported that he had been informed Hodgkinson was a volunteer for his campaign, and released the following statement condemning the attempted assassination:
Sponsored: What's Crooked Hillary up to now? (shocking)
Bernie Sanders statement on shooting says he was informed "alleged shooter… apparently volunteered" on his campaign. pic.twitter.com/Naioc8osn0

— Lissandra Villa (@LissandraVilla) June 14, 2017
2. He had multiple previous arrests
Court records show that Hodgkinson's legal trouble started in the 1990s with arrests for resisting police and drunken driving. His most serious problems apparently came in 2006, when he was arrested on a battery charge. Records indicate he has not been involved in any legal cases since 2011.
Sponsored: Exposed 35.6 Million Seniors Being Used as Government Guinea Pigs
3. He just closed his home-inspection business
Until recently, he ran a home-inspection business out of his home in Belleville, in the southwestern corner of the state, across the Mississippi River from St. Louis, according to Hodgkinson's Facebook page.
He was a licensed home inspector from 1994 to 1997, when his license expired and he also held a license from 2003 to 2016, although it was never renewed, according to the Belleville News Democrat.
4. He despised income inequality, the rich, and President Donald Trump
He also wrote frequent letters to his hometown newspaper, the Belleville News-Democrat, which published nearly two dozen letters between 2010 and 2012, many of which included complaints about the same theme: income inequality.
Hodgkinson compared the economic conditions of the time to those that preceded the Great Depression and excoriated Congress for not increasing the number of tax brackets and taking other tax reform measures.
Sponsored: Celebrity doctor reveals his controversial diabetes cure
On May 14, 2010, he wrote: "I don't envy the rich; I despise the way they have bought our politicians and twisted our laws to their benefit."
On March 4, 2011, he wrote that Congress should rewrite tax codes to ease the tax burdens of the middle class.
"Let's get back to the good ol' days, when our representatives had a backbone and a conscience," he wrote.
In October 2011, he applauded the Occupy Wall Street protesters in New York and Boston, writing that the demonstrators "are tired of our do-nothing Congress doing nothing while our country is going down the tubes."
In March, Hodgkinson posted a change.org petition to his Facebook page, along with a threatening message to Trump.
Sponsored: The government doesn't want you to know about THIS book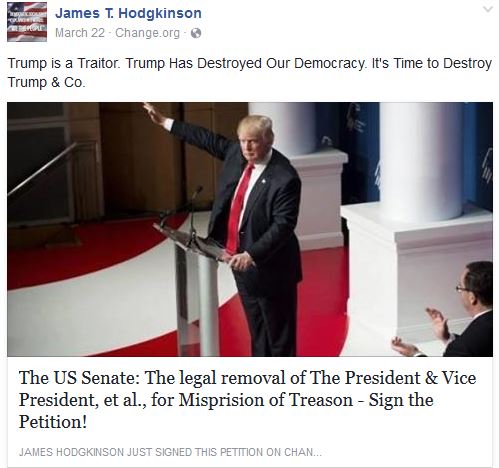 5. He was a fan of liberal news sources, such as MSNBC's Rachel Maddow
He also wrote about conservative talk radio and TV, saying that his favorite show was Rachel Maddow's MSNBC program and writing that he believed MSNBC provided "a better, balanced opinion," than Fox News.
Sponsored: Why atheists won't go near this address
His Facebook page shows Rachel Maddow listed as one of his favorite TV shows, along with Last Week Tonight with John Oliver, The Daily Show, Bill Maher, and other far-left leaning media sources.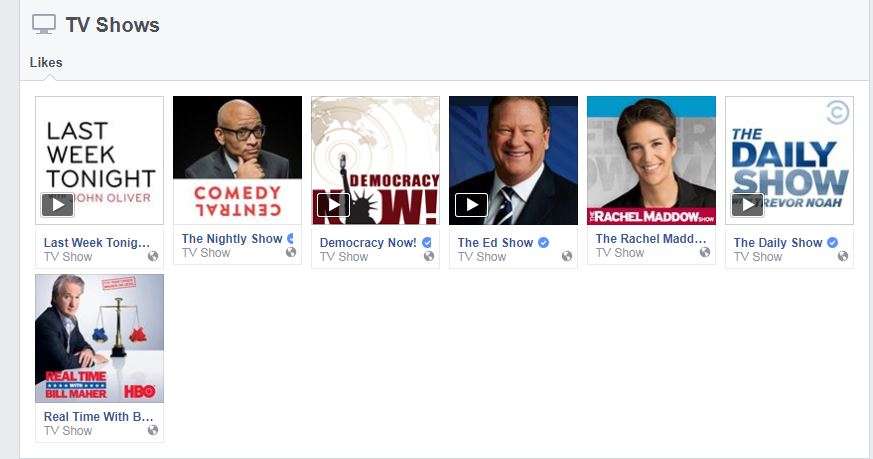 While it's clear he was influenced by a liberal agenda, no sane American would endorse these acts, regardless of political party.
Hodgkinson was clearly a mentally disturbed terrorist — and he lost his last ounce of sanity Wednesday morning.
The Associated Press contributed to this article.