It was a historic moment, and it happened even before the Pyeongchang Winter Olympics had officially begun.
As South Korean President Moon Jae-in and his wife greeted VIPs in their dignitary box to watch the opening ceremony, they turned to shake hands with North Korean leader Kim Jong Un's younger sister, who arrived earlier in the day on an unprecedented visit to the South by a member of the North's ruling Kim family.
All broke out in broad smiles.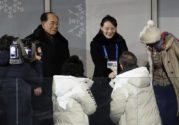 Save Your Brain – FIND THIS EXTRACT NOW! [sponsored]
Kim's sister, Kim Yo Jong, was at the opening ceremony with North Korea's nominal head of state, 90-year-old Kim Yong Nam. They are part of an extraordinary diplomatic push by the North aimed at using the Olympics to ease tensions with Seoul and bolster unity between the two Koreas after a year that has been marked by escalating fears of war and increasing angry rhetoric between Pyongyang and Washington.
As they shook hands, the North and South Koreans spoke briefly. It was not immediately known what they said, but all of them were smiling.
U.S. Vice President Mike Pence and his wife arrived after the handshakes. They were seated beside the Moons and next to Japanese Prime Minister Shinzo Abe and his wife. His office said he did not interact with the North Koreans.
One world-famous doctor calls this the most powerful joint support breakthrough… [sponsored]
The Moons, Nam and Kim all stood again as athletes from both Koreas marched together behind a blue-and-white "unification" flag for the first time since 2007. There was another handshake.
The Pences did not stand for the unified Korean team's entrance. During the parade of nations, they stood only for the U.S. team.
The Associated Press contributed to this article.