The Senate hearings on Supreme Court nominee Brett Kavanaugh on Tuesday quickly devolved into repeated disruptions from angry protesters — and three Texas doctors claim they saw protesters being paid off with a "bag of cash" before the hearing even began.
There's even a photo of one of the alleged cash exchanges.
Doctors are keeping quiet about THIS [sponsored]
For decades, it's been a frequent conspiracy theory that "professional protesters" are bused in and paid handsomely by liberal power brokers to do their dirty work. Now, critics say they have proof at least some of these angry protesters on Tuesday were given cash for their work.
Conservative commentator Adam Schindler found three doctors from Texas who said they witnessed the cash exchange firsthand.
"We got here at about 8:15 and there was already 100 people in line, and most of them would be probably classified by me as 'opposing everything going on with Judge Kavanaugh,' and so we began to see a process of things unfolding as we were standing in line that kept the line from going ahead," Dr. Tom Schlueter told Schindler. "One thing was there were people who had come along … who had a bag of money, and people would hand them a piece of paper, and then they would give them money."
"So we know money was exchanged for some of the people to be here, just to protest. There was no depth to what their understanding, they were just here to be a protester," Dr. Schlueter continued. "And they were actually told… we heard them say and instruct: 'When you go in, we want you to yell, to scream, and even possibly to get arrested.' So that was some of the processes we saw happening."
Sponsored: Hillary Confessed! And It Was All Caught On Tape… 
Schindler also tweeted a photo of one alleged exchange —
Proof the protestors were paid off in line. #Kavanaugh #ConfirmKavanaugh #ActivismInAction pic.twitter.com/hMLpP4zWPn

— Adam W. Schindler (@AdamSchindler) September 4, 2018
Social media users say the same woman in the photo was later arrested for disrupting the Kavanuagh hearing —
Sponsored: Why chicken salad might be all you need for healthy blood pressure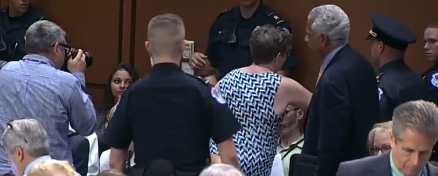 The eyewitnesses claimed that protesters were clearly organized, and that those who weren't arrest seemed disappointed after the hearings.
Sponsored: True Cause of Cancer Stuns Oncologists
"I gotta tell you, it was very sad. This is a very time-honored institution in the past, and these young people — mostly young people, but some old people — they seem to have no heartfelt convictions about why they are here,"  Dr. Chris Dundas told Schindler.
"If you have to pay somebody to protest, that's a good tell… Being arrested and being proud of it?" Dr. Dundas said. "Some women came back from these hearings in the chamber, and they seemed disappointed they were not arrested."
"This experience I shared with these other three guys was quite an enlightening one. I took off my credentials and walked among the people to get more information and be more acceptable to those around us," Dr. Burton Purvis said. "It was quite interesting as we listened to their attitudes and actions about why they were here and what they wanted to do.I think the most telling thing was listening to them giving names and addresses, so when they were arrested, they were keeping a record."
"And they were celebrating those who got arrested, without any regard for any open discussion or even the possibility of being convinced of anything," Dr. Purvis said. "It was just for the purpose of disruption, and to have some kind of disruption of the process."
How YOU can Keep America Great in 2018 [sponsored]
You can see the shocking interview below —