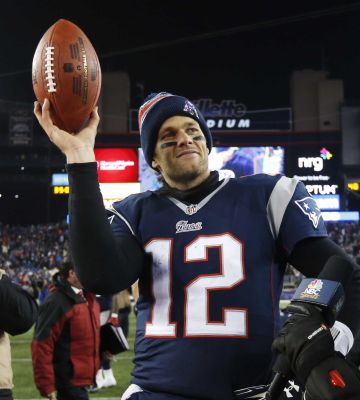 Sorry, Goodell.  A federal judge let the air out of "Deflategate" Thursday, erasing New England Patriots quarterback Tom Brady's four-game suspension for a controversy the NFL claimed threatened football's integrity.
U.S. District Judge Richard M. Berman criticized NFL Commissioner Roger Goodell for dispensing "his own brand of industrial justice."
Berman said Goodell went too far in affirming punishment of the Super Bowl winning quarterback. Brady has insisted he played no role in a conspiracy to deflate footballs below the allowable limit at last season's AFC championship game.
The suspension was "premised upon several significant legal deficiencies" including the failure to notify Brady of potential penalties, Berman wrote in his opinion, noting that an arbitrator's factual findings are generally not open to judicial challenge.
"Because there was no notice of a four-game suspension in the circumstances presented here, Commissioner Goodell may be said to have 'dispensed his own brand of industrial justice,'" Berman wrote, partially citing wording from a previous case.
Berman's ruling does not necessarily end the dispute. The league can appeal.
In a statement, the union's executive director, DeMaurice Smith, said the ruling proves that the contract with the NFL doesn't grant Goodell "the authority to be unfair, arbitrary and misleading."
"We are happy for the victory of the rule of law for our players and our fans," he said.
The NFL's top lawyer did not immediately respond to emails seeking comment.
The judge said Brady had no notice of his possible suspension for general awareness of ball deflation by others or participation in any scheme to deflate football and for not cooperating with an investigation.
"Brady also had no notice that his discipline would be the equivalent of the discipline imposed upon a player who used performance enhancing drugs," Berman said.
Brady was also denied equal access to investigative files, including witness interview notes, and didn't have a chance to examine one of two lead investigators, the judge said.
The written decision frees Brady to prepare for the Sept. 10 season opener against the Pittsburgh Steelers.
The ruling was a surprise to some legal experts who believed Berman was merely pressuring the league to settle when he criticized its handling of the investigation and discipline over the last eight months.
The league brought the scandal to Berman's Manhattan courtroom immediately once Goodell upheld Brady's four-game suspension, blasting the quarterback for arranging the destruction of his cellphone and its nearly 10,000 messages just before he was interviewed for the NFL probe. The union countersued, said Brady did nothing wrong and asked the judge to nullify the suspension.
While the league investigation found it was "more probable than not" that two Patriots ball handling employees deliberately released air from Patriots game balls at January's 45-7 New England victory over the Indianapolis Colts, it cited no direct evidence that Brady knew about or authorized it.
Goodell, though, went beyond the initial investigation report, finding in late July as a result of testimony from Brady and others that the quarterback conspired with the ball handlers and tried to obstruct the league's probe, including by destroying his cellphone.
The commissioner said he concluded Brady "knew about, approved of, consented to, and provided inducements and rewards" to ensure balls were deflated.
Berman attacked the league while questioning one of its lawyers at two hearings, citing a lack of proof against Brady and asking how Goodell settled on a four-game suspension instead of other discipline.
He warned the league that he had the authority to overturn its punishment of Brady if he found the NFL acted unfairly by refusing to deliver NFL Executive Vice President Jeff Pash as a witness even though he worked on the NFL investigation.
Berman had repeatedly urged both sides to settle and tone down their rhetoric. At a hearing Monday attended by Brady and Goodell, the judge announced that both sides had "tried quite hard" to reach a deal in morning talks. But the case was left for him to decide.
As they negotiated, the sides attacked each other in court papers.
In one August court filing, the union said the four-game suspension displayed "a clearly biased agenda — not an effort at fairness and consistency," and it criticized Goodell's ruling upholding the suspension as a "smear campaign," a "propaganda piece written for public consumption."
In its papers, the NFL said there was "ample support" in evidence for the commissioner to conclude Brady was involved in efforts by the Patriots equipment personnel to deflate footballs.
The Associated Press contributed to this article