The scene outside Washington, D.C's National Press Club on Thursday night was chaotic. Hundreds of leftwing agitators gathered– many wearing masks to conceal their faces — and tried to shut down the party being held by supporters of President Donald Trump: The infamous "DeploraBall."
We have the pictures and first-hand accounts from inside (and outside) the pro-Trump inaugural ball the mainstream media hopes you never read — The Horn News was there, and there's no spinning what we saw.
Outside, cowardly attackers convened in small groups, hiding among the crowd. They hurled projectiles and eggs, screamed at any innocent woman in a ball gown that got close, fought police, and randomly assaulted nearby Trump supporters with clubs and fists.
Worse, the cowards refused to stay and fight, instead quickly fleeing back into the mass of hundreds to escape retaliation.
For example, we saw one man wearing a red "Make America Great Again" hat be punched without provocation by a random passerby clad in all-black and wearing a mask. When the Trump supporter spun around to defend himself from the anonymous attack, he was greeted with taunts and laughs from protesters.
The crowd had already cleared a path for the attacker to escape, and quickly converged to hide him from the police.
Video below show's the outfits "protesters" wore, where one agitator is heard saying, "These f**king cameras need to go away."
So much for the tolerant left.
Inside, the scene was much different. After a long security line maintained by the professional and courteous security staff and a short elevator ride to the upper floor, a huge ballroom and festive atmosphere greeted each attendee.
Pro-Trump decorations hung over the walls, and — thanks to the courageous actions of the police outside to keep violent protesters away — the patriotic crowd was in great spirits.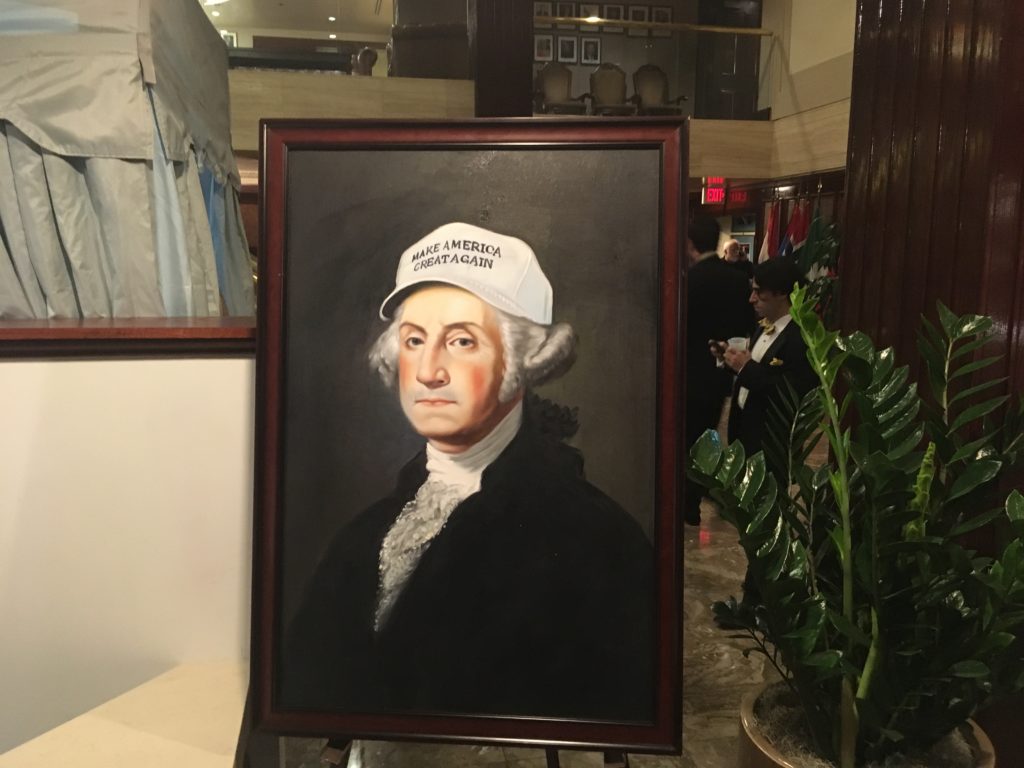 Attending the party was a who's who of conservatives and Trump backers, including Project Vertias' James O'Keefe, Sheriff David Clarke, Gateway Pundit editor-in-chief Jim Hoft, as well as popular and outspoken conservative social media personalities like Mike Cernovich, Gavin McInnes, and more.
Despite the deplorable actions outside… having a Great time at the Deploraball! @MAGA3X @MamaReg2 @Keyla0901 @kinni00 @Cernovich pic.twitter.com/545wIzWl7v

— James O'Keefe (@JamesOKeefeIII) January 20, 2017
The main stage included a Trump presidential podium, used as a photo-op by the large, racially diverse crowd of Trump supporters.
One woman took the stage with a "Latinos for Trump" sign and was greeted with cheers. After, a man walked through the crowd with a sign boasting of his legal immigration to America, and was greeted warmly by his fellow party-goers.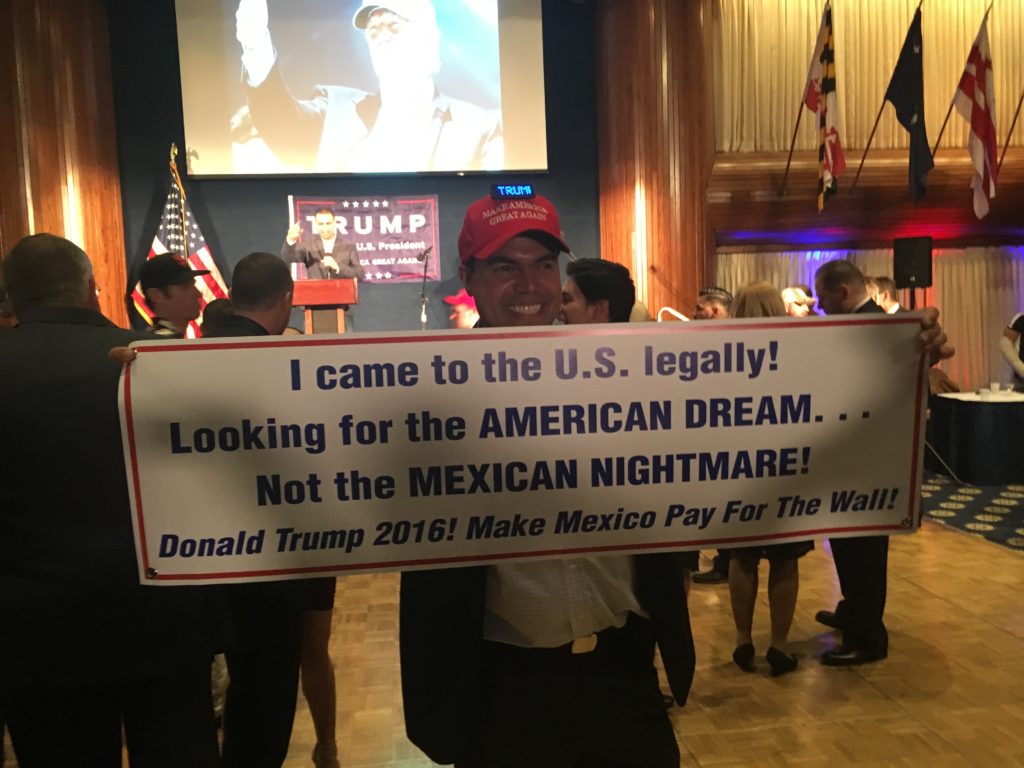 Largely well dressed in tuxedos and ball gowns, the attractive crowd spread through multiple rooms decorated with white table-cloth covered tables.
Inside the ball was a total contrast to the violent behavior going on outside.
It was a peaceful gathering of patriotic Americans, celebrating their election victory.
That's something the left can't tolerate.
— The Horn editorial team