President Donald Trump fulfilled another campaign promise Thursday by withdrawing from the Paris Climate Agreement in a move that should come as no surprise to anyone paying attention to politics.
But in regular fashion, the leftist media lost it!
Sponsored: Christian News: Mainstream networks refuse to cover THIS
The proposal for a renegotiation somehow translated to the apocalypse for the liberal media, with many reports that Trump's decision could end civilization as we know it.
The New York Times reporter Paul Krugman wrote, "as the probability of civilization-ending climate change rises, a special shout-out to all those who helped make it possible."
Biased CNN began reporting that the world was essentially over due to Trump's request to renegotiate the deal.
Sponsored: Mainstream media FOOLED by these 3 events
In an exaggerated broadcast, CNN reported that the scientific consequences will be flooding, deadly heat waves, disappearing coral reefs, and even mass extinction!
And it isn't just American media having a meltdown.
BREAKING: Common pill deadlier than cigarettes (sponsored)
Local German newspaper Nerliner Kurier posted the obscene headline, "Earth to Trump: F*C* you!" on their front page.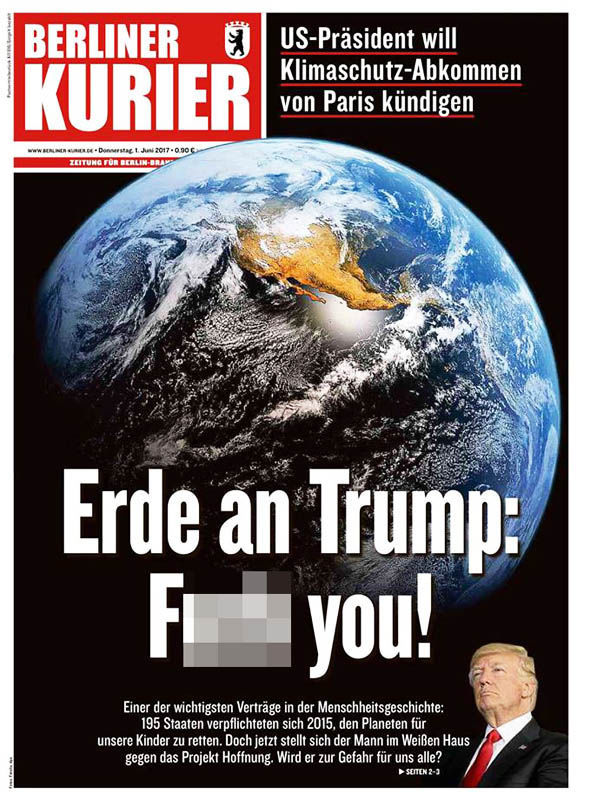 Republican Senator Rand Paul called out the hyperbole, telling CNN's Jake Tapper, "The sky is falling, Mass extinction? Really?"
Sponsored: A doctor's prized diabetes recipes…
He recognized the media's absurd reaction to an age old process saying, "I don't think we should be alarmists about this I mean the planet's 4.5 billion years old, we have gone through great extremes of climate change, natural and now we may have man-made influence as well but these people, the question I always ask these alarmists is how much is nature and how much is man?"
"While Trump said the United States would be willing to rejoin the accord if it could obtain more favorable terms, the leaders of France, Germany and Italy said in a joint statement Thursday that the agreement cannot be renegotiated, 'since it is a vital instrument for our planet, societies and economics.'" The Associated Press reported.
Sponsored: This document is WAY too dangerous to Obama
A seemingly dangerous decision by world leaders if the planet will truly be destroyed without America's participation.
-The Horn editorial team