Indianapolis Colts lineback Edwin Jackson was one of the two men struck and killed by a truck on Super Bowl Sunday — and the suspect is a twice-deported illegal alien.
Another American life ended tragically by a criminal that should have never been in our country, outraged fans say.
Sponsored: The non-drug, energy secret the Russians were REALLY using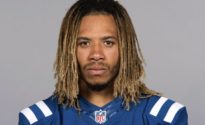 Jackson and another man were killed early Sunday when a suspected drunken driver struck them as they stood outside their car along a highway in Indianapolis, the team and police said.
"The loss of life at the hands of illegal immigrant criminals should make all Hoosiers sad and ultimately angry. We must do more to get these dangerous illegal immigrant criminals off of our streets, and guarantee this never happens again by building a wall, ending sanctuary cities, and stopping illegal immigration once and for all," Indiana Rep. Todd Rokita said in a statement.
The Colts said in a statement Sunday that the team is "heartbroken" by Jackson's death and that the 26-year-old "was loved by all in the Colts organization."
State police identified the victims as Jackson, who grew up in Atlanta, and 54-year-old Jeffrey Monroe, of Avon, Indiana. Police say they were killed when a suspected drunken driver — who is also an illegal alien –struck them as they stood outside their car along Interstate 70 on Indianapolis' west side.
Sponsored: The one word no man wants to hear: "f___l"
Police said that it's believed that Monroe was an Uber driver who was transporting Jackson when Jackson became ill. Monroe pulled over to the side of the highway and got out to help Jackson when both were struck by a pickup truck that also hit Monroe's car, police said.
The pickup's driver, a 37-year-old illegal immigrant named Manuel Orrego-Savala, is a citizen of Guatemala and had been deported twice before. Orrego-Savala was believed to be intoxicated and was driving without a license, police said. He allegedly tried to flee the deadly scene on foot but was quickly captured.
"Orrego-Savala is in the United States illegally and has previously been deported on two occasions, in 2007 and again in 2009. State police investigators are working with U.S. Federal Immigration Officials and they have placed a hold on Orrego-Savala," Sgt. John Perrine said in a statement.
He was taken to the Marion County Jail, where blood-alcohol test results were pending.
[Alert] 7 deadliest drugs of 2018 [sponsored]
The 6-foot, 234-pound Jackson attended Georgia Southern. He was signed by the Arizona Cardinals in May 2015 and released by the team about three months later. Jackson was signed to the Colts in December 2015. He was placed on injured reserve by the Colts last September.
The Colts said in their statement that they "admired" Jackson's "outgoing personality, competitive spirit and hard-working mentality."
"He was well-respected among all with whom he crossed paths, and he will be greatly missed in our locker room and throughout our entire organization," the statement said.
Is it time to build Trump's border wall?
Vote here --
The Associated Press contributed to this article